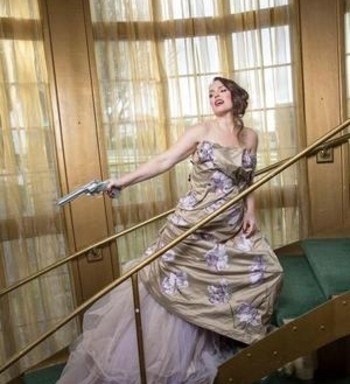 So we are back at it here on Skoped Out @ skopemag.com! I am loving this nice weather and amazing summer full of music. My guest today is a huge part of that, I am so happy to have the seductive & talented Wendy Sweetlove live from Los Angeles, CA! Before that, lets do some music news. First up, Roland Corporation U.S. and Carnival Cruise Line have established a relationship that will further elevate the popular cruise line's award-winning entertainment options across its entire 25-ship fleet. Designed to coincide with the recently unveiled Carnival Studios – the line's state-of-the-art rehearsal space in Davie, FL – the new alliance will provide Carnival's bands and technical teams with world-class musical equipment and training and technical support solutions to provide unprecedented new entertainment choices for Carnival guests. In other news, Music Canada welcomes landmark Supreme Court of Canada decision in Equustek Solutions v. Google upholding a ruling that Google can no longer provide search results anywhere in the world that point to a website that unlawfully sells the intellectual property of another company. Music Canada joined several other creative industry associations as interveners supporting Equustek in the case. Now lets get to Wendy Sweetlove. Wendy has so much going on such as her new single "Babysitter" and her debut album out now. Plus her press shot in a gown holding a revolver is bad-ass! Now lets hear from Wendy as we talk about summer in LA, her new album, buying & streaming music, and so much more!
Stoli: Where are we talking from today and are you ready for summer?
I'm calling from my beloved little bungalow in Los Angeles, my oasis in the craziness of the city. I have this great French window in my living room that looks out over these amazing jacaranda trees – I've written several of the songs from my new record looking out at those trees.
I'm from Los Angeles, I am ready for summer EVERY DAY of my life, Summer nights in LA are my favorites, it's the time of year that I envy people with patios.
Stoli: Do you get to go away for some time in the summer and if so where & what do you do?
I actually love summertime in Los Angeles. It's pool parties, and warm nights and rooftop drinks and the traffic is just a little bit better because all the people that can afford it are in St. Barts. If I do get away, believe it or not, it's to somewhere hotter like Las Vegas or Palm Springs so I can sit by the pool and let the heat bake into my body. My birthday is in July so I often will go to Palm Springs for the weekend with friends to enjoy the desert. I usually plan my international trips in the fall or winter so I can get away from the brtual under-65-degree weather of an LA winter. A dear friend of mine has a big birthday coming in September and we're planning a trip to New Orleans, which I'm so excited about. I LOVE that city – so full of life and music. But I love to travel, I've been to over 20 countries now – and I think it's now more important than ever to get out and see what's great about other countries and other cultures.
Stoli: How did you get the name – Wendy Sweetlove – and how did it fit with your sound?
I used to sing in this fabulously dirty comedic band with my good friend and performance mastermind, Ro Chambeaux. We had all of these ridiculous dance moves and costume changes – it was a blast. He gave us all stage names for the band before one of our shows – I literally showed up to rehearsal one day and he told me "You're Wendy Sweetlove" – and I loved it and it just stuck. Now most of my friends and family call me Sweetlove and it makes me happy – I love having a alter ego – I think it makes me braver and freer on stage. I think the name really suits me – it makes me think of a classic 60's/70's band, and yet it's a very positive, loving name. I really think my music is timeless and classic with a modern feel, and I'm also very loving and fiercely devoted to the people in my life – I'm very nurturing. So I think it's the perfect representation of who I want to be in the world.
Stoli: You have been in music for many years, what happened that made you decide it was time to go solo?
I always wanted to be a solo artist, but I was really inexperienced when I moved to Hollywood and I hardly knew anyone. So I just started taking everything that was offered to me and I made sure I was reliable and prepared every time and eventually I started getting calls and getting offered spots of my own. And so I've come to embrace a bit of a paradox in that the way to really be successful in music is to show up for others – be on time, be prepared, have a good attitude, exceed expectations, support others – and then when someone takes notice of you and gives you an opportunity, then you kill it.
I used to think I wasn't really a songwriter unless I could do everything on my own. And now I think that working with other people is not only way more fun, it makes me a much better writer and artist. Even for this record, it took someone really believing in me and being willing to be a partner with me in this project (my friend, co-writer and guitar player Ido Sasson) that gave me the courage to really put everything I had into this record. When someone really really has your back – that's a tremendous gift and I feel so lucky in that regard to be able to work with the people I'm working with now.
Stoli: You did work as a backup vocalist for some time. Who did you love to work with and what did you learn from them?
I've had the good fortune to sing with some incredible artists. The amazing Levi Kreis, who went on to win a Tony for his work in Million Dollar Quartet, is one of the most electric singers I've ever seen. There were times when I would almost forget to sing when I was backing him because I was so enraptured by his talent. I learned from Levi how important it is to be committed to your music and to really work on mastering your craft to make it look effortless. My favorite person to sing with is Joan Jones – she is an amazing recording artist, singer and songwriter and she has been a true friend to me. Some of my happiest music memories are being on stage with Joan – she has such a beautiful presence on stage, and she truly brings a joy to her performances that I can't get enough of, and she is always looking to support other musicians and work together. From Joan I learned that you can be a good and generous person and still make amazing, beautiful music.
Stoli: Your debut album 'Dirty Sunday' is out now. How long were you writing/recording that album?
My music partner and guitar player extraordinaire, Ido Sasson, and I decided to make a record and started writing songs for it almost 2 years ago. When we found our amazing producer, Drew Sherrod, and really started rehearsals in earnest it was about 15 months ago. So we really took the time to make it right, I'm so proud of that. Some of the other songs that made it onto the record are songs that I've written over the last ten years with some of my favorite songwriters. In fact, the song 'Come to Momma' was a song I wrote with an amazing bass player named Orlando Sims. Orlando got me my first professional backing singer gig and Come to Momma was one of the first songs I ever wrote. Orlando passed away from cancer in 2014 and hardly a day goes by that I don't think of him, as his support and generosity are some of the main reasons I'm here today. This album, Dirty Sunday, is dedicated to him.
So the album actually hasn't been released to the public yet, as we have it in the hands of a few industry people right now in the hopes that we can find a partner for this project. However, as a thanks to your readers and fans for reading this far, I would love to send a free preview track from the record to any of your readers that go to my website, wendysweetlove.com , and reach out to me and request a free preview track. Have them mention this interview with Skope, and I'll send them a track with a personal note from me. You can also text 77948 with the keyword BABYSITTER to get a free download.
Stoli: How has the response to the album been so far and where can readers @skopemag listen as well?
I'm happy to say we've had a great response from everyone that's heard it so far. People seem to really enjoy the caliber of musicianship we had on the record, the old school soulful feel of it, and the stories behind the lyrics. You can hear clips of the songs right now at www.wendysweetlove.com and if any of your readers reach out to me at www.wendysweetlove.com and mention this article in Skope Magazine, I will send them a free preview track!
Stoli: I love your song, "Babysitter." What does that song mean to you and what inspired you to write it?
Thank you! It's one of my favorites. You know, I was actually watching TV one day and a teaser came on for the news and it said, very dramatically "DOES YOUR BABYSITTER HAVE A CRIMINAL HISTORY?? – TUNE IN AT 11!", and I just thought it was a fun premise for a song. And then I started thinking about what it means as a woman to be "good" and what it means to be "bad" and how I could play with the that old boys' club trope of the naughty babysitter, and what if this girl was just living life on her own terms and didn't give a sh*t what you think. There is a part of me that wishes I could have been that girl and that's what I was trying to play with in that song.
Stoli: I love your press photo with you in the gorgeous gown pointing the revolver. What does that photo represent?
Thank you so much. That photo was part of a photo shoot I did at The Madonna Inn with the amazing photographer Monica Orozco (www.demonicaphoto.com), who was a dream to work with. I adored that dress and when we were shooting that photo and I was running up and down the staircase with the revolver, I felt like some kind of beautiful, powerful outlaw, someone who didn't care what other people thought. Someone who knows who she is and doesn't apologize. That's sort of the theme to the entire record – not apologizing for my voice, being happy and being free.
Stoli: In this streaming world we live in how do you consume music and do you mind if fans stream your album on Spotify at no cost?
I stream a fair amount of music, but I am also committed to supporting artists, so I will buy the albums that I like and I always try to get music directly from the artist if I can. I go hear my friends and colleagues play live as much as I can, as it's such a different and more joyful experience hearing people live in the room. Once the album is released I would be so happy to have fans listen on Spotify for free. I would rather have someone hear it and love it and make a new fan who will hopefully be coming back for the next record or come to a show. I'm working on building a following of people who appreciate amazing musicians and a beautiful song, and hopefully my fans and I can take a journey together in the years to come.
Stoli: What is coming up for Wendy Sweetlove and where you @ online?
We have the record in a few select industry people's hands right now, which is really exciting. We will also be announcing the album release date soon, and Skope will be among the first to know. I've also been playing gigs locally in Hollywood, and I am planning on being in Nashville in August and New Orleans in September and will have show dates for them soon. I'm announcing new shows every day – you can sign up for my mailing list for updates on the record at wendysweetlove.com. You can also find me on Facebook, Instagram and Twitter under Wendy Sweetlove. I would love to hear from your readers!
https://wendysweetlove.com
https://www.facebook.com/wendysweetlovemusic/