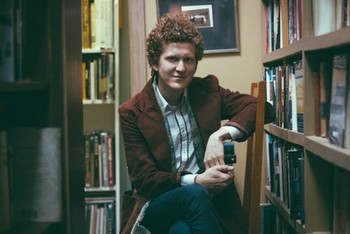 "It was a long road to making my new EP," says Nashville-based singer-songwriter Matt Siffert. "Come to think of it, it was a long road to making music at all."
Siffert — whose new EP, Gallatin, will be released on July 21, 2017 — was born in New York City to a psychologist mother. "I grew up around a fascination with people," Siffert says. "I loved people, too. I always thought I would follow in my mother's footsteps."
WHAT INSPIRED THIS SINGLE & WHAT IS THE MEANING?
It was a composite of two different forces that were in my life at the vtime – being on the road a lot and meeting a lot of new people (both through touring and having recently moved to Nashville). So I was threading together those two currents, in a way.
WHAT WAS THE RECORDING PROCESS LIKE FOR THIS SONG? DO YOU HAVE COOL STORIES ABOUT WORKING ON THIS SONG IN THE STUDIO?
I always feel like a disappointment on studio-related questions, hah. Basically it just took a ton of work. There wasn't much other than a lot of time hashing out the arrangements with the band, and then more time after we did basic tracking to add on overdubs. The process of bringing a song from demo'ed on voice/guitar to fully recorded is trying a bunch of ideas, taking some and abandoning others, always being flexible and patient and doing whatever it takes to make the song sound as good as it can be.
YOUR BIO SAYS THIS IS ONE OF YOUR FAVORITE SONGS YOU'VE EVER WRITTEN. WHAT ABOUT IT MAKES IT SO SPECIAL TO YOU?
Yeah, I'm really proud of it. I was able to take a lot my musical and lyrical influences and unite them into something that felt uniquely me. You know, that story, those images, those chords and time signature changes, those are me. But there are traces of Radiohead's grooves, Bill Evans's harmonic language, Paul Simon's story-telling. It's both new and familiar.
HAVE YOU PLAYED THIS SONG LIVE? WHAT IS THE AUDIENCE REACTION TO THIS SONG IN THE LIVE SETTING?
That's a great question. I have indeed played the song out; it gets mixed responses. It's the favorite song of some people and the least favorite of others. It's dense on all levels, so it either entices or alienates. You know, I'm at the point where I have some songs that are accessible and some that require more of the listener. I like that mix. It makes me less self-conscious during the writing process.
YOU WRITE REALLY GREAT LYRICS. WHAT IS YOUR FAVORITE LYRIC LINE FROM THIS SONG?
Thank you. I really appreciate that. I think my favorite line would be turning the phrase, "There's a whole lot of straight ahead from here" from a description of the road to a description of a personal interaction, and then twisting the knife and saying, "I hope you're happy with a whole lot of straight ahead from here." If I had written this song five years ago, I probably would have had a few descriptions of the road and that's it. I wouldn't have developed the meaning of it. But now I am able to look at a line like that and say, "What else can I do with this?"
Photo – Jordan Merrigan