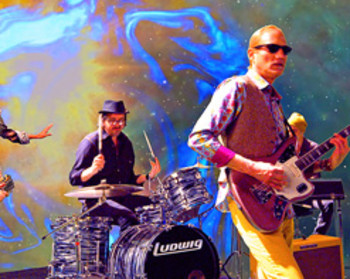 Since we first partnered with him for the "Baby Goodbye" music video in 2014, AV Super Sunshine has produced a continuous output of videos, becoming quite a prolific artist that never fails to surprise us. This Wisconsin native has taken influence from the likes of Jimi Hendrix, Pink Floyd, and Kurt Cobain and created songs that express how he's overcome his past demons, which include severe depression and PTSD.
http://www.avsupersunshine.com/
AV Super Sunshine released his latest album Bass Face on Victor House Records last year. BuzzFeed called it "nothing less than a psychedelic good vibrations audio experience." The title, he explained to No Fly Zone, "was lifted from a Bowie influenced space themed song also on the record named Base Calling Face", a song which searches for Bowies now famous "Major Tom".
While his roots are deep in rock and roll, AV Super Sunshine has begun spreading his wings. To illustrate, you'll remember we first introduced you to "Baby Goodbye" as a vintage MTV style rocker and then as a modern-psychedelic hip-hop remix video. The success of the hip-hop remix on several prominent crossover dance charts prompted thousands of DJs to request a club flavored "Baby Goodbye" house style remix. Once served the new remix debuted at #2 and hit simultaneous number #1s on the influential Starfleet Music Pool dance and crossover charts. After the song received over 3 million votes on their VIP Artist Page it was decided to create a "Baby Goodbye 2017 Dance Remix" music video.