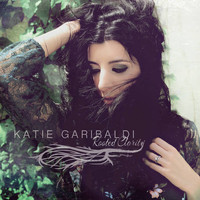 Hard to believe that it's been nearly 8 years since I first heard Katie Garibaldi for the first time and reviewed her album 'Next Ride Out' for Skope (https://skopemag.com/2009/11/19/katie-garibaldi-next-ride-out). I knew then that this artist had something truly unique and the raw talent to go far in the music industry. That's why I am so happy to see Katie still going strong as I'm here to tell you she hasn't missed a step or beat.
Garibaldi's new EP titled 'Rooted Clarity' is exactly that with earthy and rich tones & textures. Katie is digging deep here to deliver a superb vocal & musical performance where Americana meets folk. There is just something so pure and real when you listen to Katie Garibaldi sing on this record where everything is just stripped away. The first single is called "Delightful" and perfect title because Katie is delicately sailing through this song with the absolute perfect melody in place. This track, along with the official music video for "Delightful" is attracting major attention and picking up awards and nominations left and right. Katie sings with such a breezy, airy flow that is soft to the touch & intimate yet so distinct & personal. On the second number, "I Am", you get a sense that Katie Garibaldi is just letting loose and releasing herself through tender, sincere vocals. The country roots are heard loud & clear along with Katie's genuine, folk presence that makes for one enjoyable listening experience. Next up, Katie will have you daydreaming and stargazing on "In My Wildest Dreams" as Garibaldi is singing strictly from the heart on this cut. Track four, "On My Own", you can literally feel and hear Katie G coming into her own in that she knows exactly who she is not just as an artist but as a person as well. There is a powerful message being relayed here, which is that it's time for Katie to fly and spread her wings wide. The EP ends with a song titled "Bird in a Cage" where you get the funny feeling that Katie Garibaldi has released the chains and has embraced the change by the end of the record. By the time you hit the finale, Katie is completely free and fluttering all about without any restrictions or boundaries. Just like when a caterpillar transforms into a butterfly, Katie has popped out of the cocoon as a bright, shining songbird singing beautiful music.
Seems to me that Katie Garibaldi is an extremely confident singer/songwriter/guitarist who is very comfortable in her own skin and the result is 'Rooted Clarity'. True singing mixed with honest lyrics= crystal clear music that enriches the soul. Listening to Katie sing is like hearing the soothing sounds of the ocean waves or birds chirping outside where she displays this special quality that is so calming & convincing. I was actually disappointed when the EP ended because I wanted to hear Katie sing on.
Katie Garibaldi has come a long way since 2009 and definitely has come into her own as a bona fide songstress with a golden voice. I can't help but think of a popular "SNL" sketch called "Coffee Talk" where the character Linda Richman, played by Mike Myers, would praise Barbra Streisand and say the catch phrase "Her voice, it's like buttah." All jokes aside, the same can be said here about Katie Garibaldi because her voice is so light 'n' smooth just like "buttah". I can't say enough good things about Katie Garibaldi and her fine efforts here on 'Rooted Clarity' as she is bringing back the simple purity that has been lost in much of today's music. And be sure to enjoy this live performance of "In My Wildest Dreams" that was recorded last year for her Nashville EP release show and now being premiered on Skope for your viewing and listening pleasure.
Eminem used to say "Will the real Slim Shady please stand up?" but I can tell you that the real Katie Garibaldi has most definitely stood up and is bigger & better than ever; she is deeply identifiable and she is here to stay folks!
5 Skopes
By Jimmy Rae (jrae2@att.net)