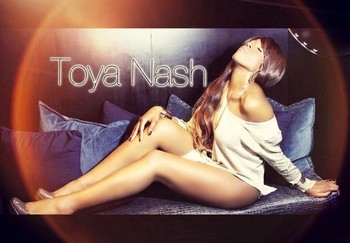 Toya Nash, is a women, that has done it all, ranging from working in film, TV, commercials, theater, as well as music, in which she has released a debut EP, and most recent being her newest song called "Paradise", which was then made into a single with accompanying video. But that is not the only source of music, to come from Toya, she has new music on the horizon, as well as more activity in the acting front, as she puts it. Her extensive career path is so ever growing and going for her, that she has taken the time in which she discusses her latest "Paradise" single, and further plans for her acting amongst other activity thrown in.
NP: Can you tell me, what came first, you being an actor or being an artist/musician?
That's a great question. Being an actor definitely came first. I've been acting since I was at least 7 or 8 years old. I always loved music, and singing came for me a bit later.
NP: Why did you want to branch out from the acting, into other forms of media, like hosting, voiceovers, etc.
I am just an arts lover! To me, one artistic medium influences the other, and the artist in me loves to be involved in as many mediums as I can. It is all super fun stuff that I am fortunate enough to have the talent to do.
NP: Out of everything you have done performance wise, which one do you think suits you better?
Acting and singing will always both be a tie for the number one spot, no contest. Now, on occasion, it does fluctuate from time to time which one I crave most, but that never lasts long. In fact, I use singing in my acting work quite a bit to explore the emotional life of a character I am portraying. Likewise, in my singing performances, acting helps me to embody the character in the song, which certainly enhances my performance. For me, they are both storytelling, and both allow me a unique form of expression that I love and crave.
NP: When did you decide that music, was the next thing you wanted to do?
I always knew that I had a voice, but I was shy about singing in front of others growing up. It wasn't until I actually studied voice and honed my skills in New York City under the guidance of Nova Thomas, that I decided to fully explore music and becoming a solo artist. New York is such a magical place, and it was there that I figured out what I wanted to truly say as an artist, and started singing professionally. Then I returned to Los Angeles to record and started working with an amazing team that I still work with today.
NP: Since exploring music, you went on to release a song turned single called "Paradise", is this the only song available musically by you?
No, it isn't. I debuted my first EP, Him…, at House of Blues a few years prior. There are some really great songs on Him…. and that EP is still available worldwide. In fact, I still get emails from listeners across the globe about those songs and what they mean to them, which, of course is a huge honor. I was in a restaurant just last week, eating, and pecking around on my laptop, when I heard one of the songs from Him… called No Pressure playing in the restaurant. It was so funny too because I was just bobbing my head and enjoying my food. It took me a second to realize I was actually moving and grooving to my own song playing on the restaurant speakers!
NP: Can you discuss the song and video that was made from it for "Paradise"?
Paradise is a steamy one, right! I had to go ahead and just get my grown woman on in this one. I think every female artist should record at least one sexy song in her career. Paradise is all about feeling sexy and strong, and owning it! I worked with an incredible team on the song and the video. It was so much fun to record and we had a great time shooting the video. We shot some of it in New York City, and some of it in multiple locations in Dallas as well. I love the video, and I the music video director, Juan Piggee, did an exceptional job capturing the full spectrum of the song. It is definitely a song every woman should play when she wants to tap into her sultry side. Just be careful not to get into too much trouble after listening! Hahahahahahahahaha!
NP: "Paradise" has been out for over a year now, so do you have any new music in the works, or do you plan to step aside from making music?
Yes I do! I have some awesome songs in the vault just waiting to be released. This summer I will release one of my favorites called Now What, which is a retro R&B, yet pop style banger! The guitar is my absolute favorite instrument, and you will usually hear one in just about every song I sing. There is an amazing guitar solo in Now What, and I can't wait for people to hear the song. I will be shooting the music video soon as well.
NP: You have done so much as it is, career-wise, what would be something that you would want to do, that people who know you, wouldn't expect of you to do?
I would absolutely love to sing at Carnegie Hall one day! There is just such a rich legacy on that stage, and singing there would be a dream come true. I also want to star in, direct, and produce a film, and will likely begin that process very soon.
NP: What else do you have planned out for the rest of this year, that we can expect from you?
This year is going to be a juicy one! I have new music coming out, and a lot more to come on the acting front as well. I also founded an acting and voice coaching company called Coach Your Craft a few years back, and we are expanding in some pretty cool ways that I think our clients and artists as a whole will really like a lot.
NP: If you were to go back in time, and had the chance to talk to a younger version of yourself, what would you say and why?
If I could travel back in time and talk to a younger Toya, I would tell her to fear nothing and take every risk because things always work out as they should. While I have taken great risks throughout my journey and will continue to do so, I would tell her that because I have always been so careful about the moves I've made in my life, and have always been very mindful of any potential consequences because of those moves. So, I would tell younger Toya to just lean right in and do whatever it is immediately. I would also tell her to slow down a bit on the tacos because one day her metabolism will change and those tacos will mean endless hours in the gym.
By: Natalie Perez – www.nataliezworld.com – natalieannnperez@gmail.com