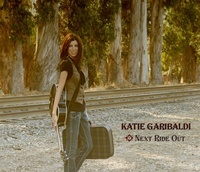 Katie Garibaldi is coming strong with her sixth full-length album titled Next Ride Out. At just 25, this young singer/songwriter wrote all the songs on the new record, handled all vocals & acoustic guitars and even came up with the outdoorsy & rustic album design. There are many other talented players on the new release and they are: Dave Lockhart on bass, Jake Wood on drums, Michael Gallant on Grand Piano & organ, Michael Molenda on production duties & electric guitars and Tom Luckens on viola, violin & organ on "Falling For You". Good Company + Solid Musicians = Sound Music in the End.
Garibaldi is blending together Americana and Roots Rock in such a soulful & heartfelt manner. Elements of rock, country, folk and pop are all evident as Katie really pours her heart out on this one. Next Ride Out features five brand spankin' new tunes and five previously released songs full of rejuvenated spirit. Katie Garibaldi seems to be the real deal here with her soulfully & emotionally drenched music. Garibaldi's vocals seem to be so pure & real, which makes for one powerful listening experience.
The album starts up with "Say The Word" where right away you hear this singer/songwriter completely in-tune with her musical & artistic side. Right from the start, magic is being made from the voice of Katie Garibaldi. You really get a sense early on that this individual has got something special. The CD rolls on into a number called "A Love Without Chains" that offers a cool-as-ice bass line to go along with a song packed full of feeling. Track four, "Can't Give Anymore", has a rocked-out guitar part while "Without Trying So Hard" follows with a sweet-sounding pitch & melody. On this installment, Katie G. really brings this song to life by way of her lovely voice alone. This particular song is stripped-down of everything with Garibaldi laying all of her emotions out on the table for you to hear. Track six, "You've Already Got Me", gives you a pop-driven, rootsy-soul-sort-of-sound while you get an extremely cool band connection on "Went Too Far (Foot In My Mouth)". All members coming together nicely on "Went Too Far (Foot In My Mouth)" with stellar moments coming from the linkage of guitarist-singer-pianist. I loved the lively feel and vibrant beat here, which made this track one of my personal favorites. Katie ends in sincere fashion with "Falling For You" that came across as extremely delicate in nature. The singer/songwriter decides to end all things with one of her most moving & touching numbers on the whole CD.
Overall, Katie Garibaldi and her new work offer remarkable traits such as: true-to-oneself-artistry, excellent musicianship and lyrics and vocals to die for. You're getting the total package here as Garibaldi invites you to come along on the Next Ride Out. With her satisfying voice, this record and this artist will surely quench your thirst for good & decent music. For more on Katie Garibaldi and her new release, Next Ride Out, SKOPE out www.katiegaribaldi.com.
By Jimmy Rae (jrae@skopemag.com)
[Rating: 4.5/5]