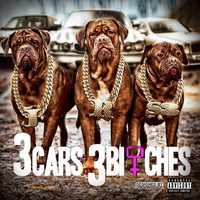 Hip hop music has never been to my liking, while it may consist of some artists and songs that were a thing to me, in my past lifetime, as of right now hip hop, rap, as well as r&b has never been a thing of mine to be into. In the case of hip hop artist JRS3, the number "3" is one he takes a liking too quite a bit. If one is not careful it could resemble something only a metal, rock, punk person would catch on.
Well not really, you would need to add three number 3's not once but twice to end up with three 6's hence, 666. But JRS3 is with his number three it being 333, so it sort of is the same but not really but slightly perhaps.
In the case of JRS3 though he has a song called "3 Cars 3 Bitches", which is that hip hop genre and in short, it sounds alright but would not count it as a favorite or one to listen to more than once. The song sounds like all the other hip hop songs out there. Whether they be from top notch artists like Nelly to Jay Z, right down to Ludacris himself, being one of the best well known hip hoppers around.
"3 Cars 3 Bitches", is one of those songs that is bouncy and hip, it's one that can be found played within the walls of a night club, if not on some radio station. It's just one of those songs that you hear once then perhaps not again until sometime way later if not years later, that's how much this song would likely come up during a rotation of music play.
Besides that the music is as noted bouncy but persists some other elements as well. It provides an easy listening experience, having it sound very mellow and in-depth, with its weirdness and auto tune, having some vocal tracks thrown in at times, has it stand out at times, but still isn't as capturing as it could be. If this song really wanted to catch onto the listener in question, it needs more hype and energy to it. Some melodies and rhythms that will have you dancing to it, if not at least bobbing your head to the beat of the music at least.
Not much more that can be said here about this song. It just has some stuff going for it but in reality it just doesn't at times and it shows a lot. The song is decent and sounds nice but it could be so much more interesting and better, if it had more to offer for it. The vocal chords for one are decent enough, they go with the beats of the music rather nicely, as it ties into the music with ease. The music on the other hand is fine if not decent it is really hard to pin point it anymore really.
JRS3's "3 Cars 3 Bitches" is one of those artists that is an up-and-comer that will shine through within the hip hop scene, no problem, but with songs like this, this track needs some auto adjusting, to make it really stand out more so than the others out in existence.
By: Natalie Perez – www.nataliezworld.com – natalieannnperez@gmail.com