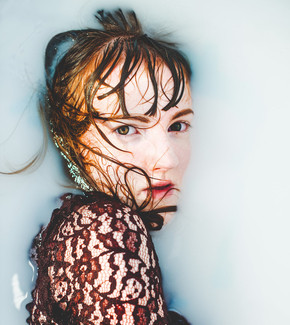 Above swirling guitars and dreamy synths, Little Rêd sings her anthem for love-worn relationships. Hell is her debut single, produced by Ed Tullett (solo artist, producer and collaborator with Novo Amor), it's a song about the battle between fear and love exploring themes of heartbreak, anxiety and bravery.
Little Rêd's hook-laden soundscape wouldn't be out of place alongside Vaults or Half Waif, with an undeniable ear for melody that is at home amongst the likes of Rae Morris or The Japanese House.
Originally from Cardiff but now studying in Bath, Little Rêd aka Ellie James is a skilled guitarist and songwriter who has been performing her own material under various guises since the age of fourteen, receiving television and radio recognition in her native Wales. Now maturing into this project, her first steps out as Little Rêd are confident ones, armed with her own brand of emotionally charged electro-pop.
Photo credit: Kirsten McTernan