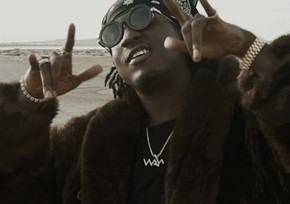 In the fast-paced world of rap music, some artists are lucky enough to have opportunities fall into their lap and blow up instantly. Then you have the ones who have to toil behind-the-scenes before they finally get their chance to shine. K Camp, the man behind the hit singles "Money Baby" and "Cut Her Off" can relate to being a little bit of both. With his newest single, "Rockstar Crazy," K Camp is proving that it is no longer about luck, just his determination and unrelenting skills behind the mic.
Born in Milwaukee, Wisconsin but raised on Atlanta's northside, K Camp is no stranger to making hit records. He formally introduced himself to the city's rap scene by performing at open mic competitions alongside the likes of Waka Flocka Flame, Roscoe Dash, Travis Porter and few other future stars. His first local hit, "Party All Night," came out just as songs like Waka's "Oh Let's Do It" and Dash's "All The Way Turnt Up" were starting to blow.
K Camp found himself involved with more hits, such as Mykko Montana's 2012 club smash, "Do It" and his own single "Money Baby." His upcoming EP, In Due Time (4/22 on Interscope Records), not only speaks to the timing of K Camp's undeniable rise, but is also an effort to show the world that he is a complete artist and not just a party anthem machine.
The new video, "Rockstar Crazy," (premiered via WorldStar) is a fiery piece of minimalist opulence that gives K Camp the opportunity to light up the screen and show that his larger than life persona is enough to fill the screen. Set deep in the desert flats out west K Camp spits endless fire with just a few select props to illustrate just how bodacious he can be. A Fender Strat, a sexy lady on his arm, and an over-the-top fur coat are all hallmarks of the "rock star" lifestyle repurposed for K Camp, who definitively shows that this hip hop artist is more of a rock star than any modern rock band!