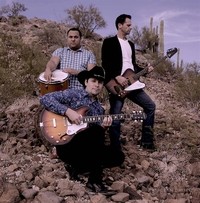 Arizona based blues rockers Mason have released a debut album entitled Midnight Road capable of reminding you why this style of music has enjoyed such enduring popularity. The ten song collection is steered by the vocals and memorable guitar of bandleader Jacob Acosta, a prolific multi-instrumentalist who's earned quite a reputation for himself in indie circles playing with a variety of acts since his 2008 professional debut. He's joined by drummer Andre Gressieux and longtime veteran of the Southwest music scene bassist/multi-instrumentalist Johnny Zapp. These three musicians pull off the demands of this particular style without a hint of irony and with none of the heavy-handed theatrics common to many contemporaries turning their hand to this sort of sound. It is easy to call this music retro, but to do so misses the larger point. Mason's debut album shows that this time-tested form is, indeed, not passé and still has a potent allure for drawing new adherents. Listeners are in good hands with Mason and their attention is rewarded with a powerful, well-rounded effort.
BANDCAMP: https://mason.bandcamp.com/releases
The opening number "Rockstar Paperboy" shows off the band's understated humor and has an irresistibly raucous edge. Acosta throws himself vocally into this with joyful abandon and it pays off for listeners with a fun blast of bluesy fun. The musical arrangement is another winner thanks to its herky-jerky and deep groove anchored by Gressieux's drumming. There's some more of the same careening, crackling blues energy throwing sparks off the track "Shackle Caster" and Acosta's guitar work is particularly incendiary. There's a more clear-cut directness to the guitar riffing here than on the opener, but there's also the same distinct sense of the individual burning through the performance. "In Or Out" is a stripped down, near primitive rave up that takes a straight line to getting over with the audience. The near hypnotic stomp has a lot of bounce and never relies on a strictly bash and thud approach to pummel listeners into submission. The variations they throw into the mix are driven by Gressieux's propulsive drumming.
The well matched vocal/guitar grind of "The Way You Used To" has a steady burn from the outset and well recorded drummers that push the performance along at a memorable tempo. Acosta's singing has a lot of strength and soul while showing great attentiveness to the musical arrangement. The simmering groove of "Give It To Me Now" affords Mason a chance to lighten their typically torrid touch with a much more laid back swing and they prove just as talented with this approach as any other on Midnight Road. Acosta's vocal shows great restraint and the patient delivery gets deep beneath the song's skin. The album's concluding and title song goes in for atmospherics much more than many of the tracks on this release, but the theatricality isn't stilted in anyway and makes a great impression. Few debuts are ever this realized – Mason doesn't sound like they are on their first album, but rather their third, and it's thrilling to wonder how they can build on this enormous promise from here forward.
FACEBOOK: https://www.facebook.com/masonbandofficial/
9 out of 10 stars
Jason Hillenburg