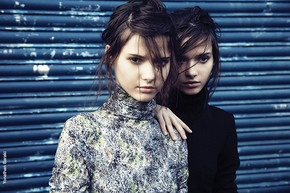 Sister act Bloom Twins, have unveiled their new single 'Set Us Free'. The track is another perfect example of their 'dark pop', offering up haunting dual vocals set against pulsating electro beats.
Talking of the new single, the girls say; "This track we co-wrote with the amazing and talented Fiona Bevan and Max McElligott. It was the first track we wrote after returning from the Ukraine where we got stuck for half a year during the uprising. The track is not political at all, rather a call for freedom, but it was certainly influenced by everything that was happening in the Ukraine and the fact that we couldn't come back to our new home – London".
To mark the end of the year, the girls have announced a headline show, at London's Nambucca, following their packed out gig at Birthdays, Dalston, in July.