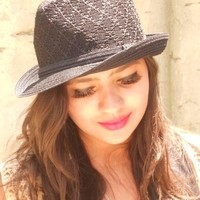 Prodigies are always impressive to encounter. There are some who come to talent from a long process of practice and instruction. They are born with the necessary gifts, but they are talents requiring a measure of coaxing into development. Other talents, however, are seemingly born fully formed and their skill level outstrips their peers with little apparent effort. Their instincts for their craft seem naturally in tune with their capabilities and their accomplishments often seem more in line with a veteran than some novice. Ira Sharma, by any definition, is such a prodigy. At fourteen years old, this performer has an incredible, multi-faceted voice capable of comfortably inhabiting a variety of musical genres. She isn't merely some pyrotechnic wonder. Sharma's vocals are deeply emotive and her phrasing has a dramatic range that many older singers would envy.
SOUNDCLOUD: https://soundcloud.com/irasharma
Her SoundCloud page delivers listeners clearest evidence of her talents. The shimmering acoustic guitar and melodic piano runs weave together in the opening minute of "When You Are True" to set a delicate mood before Sharma's voice enters. Her arrival is exhilarating. Sharma's vocals have the power and gravitas to convey the song's message and an undeniably sweet pop music appeal. The song adopts a mid-tempo pace ideal for drawing listeners in and Sharma's voice confidently handles it. "So Long" has an irrepressible pop thrust and a thumping beat that Sharma takes great delight in wrestling with. Sharma's songs, including this one, never overextend the listener's patience and become too self-indulgent. The atmospherics beginning "Best Found Treasure" dramatically sets up the song and its opening featuring Sharma's voice in duet with another arrangement driven by melodic piano playing. There's an acoustic guitar track low in the mix that fattens the song's sound, but it's clearly Sharma's vocal that's the intended draw here. She reaches higher vocal peaks than at any time in the earlier songs and the emotion she brings to bear will touch all but the most cynical of listeners.
Her cover of Taylor Swift's "Blank Space", available on Sharma's YouTube page, is delivered with the same combination of passion and technique that she brings to her own material. It further demonstrates that she has the necessary talent to take another singer's songs and claim them as her own without relying much on mimicking the original performer's style. This is indicative of a confidence level far beyond her years. Ira Sharma is unwilling to be confined to one particular niche or style and her performances thus far reinforce that desire with action. They also hint at coming greatness; it is a little awe-inspiring to consider what she will be capable of after reaching full maturity. She is currently working on her first full length release and if these superb renderings are any indication, we will know the extent of her talents soon enough.
Jason Hillenburg