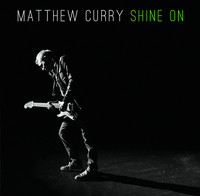 This, his third release features a sort of blues/rock style. Matt is one of the new young guitar slingers on the scene. In addition to playing, he broke into acting by actually playing the part of Skynyrd's Ronnie Van Zant in the David Spade movie Joe Dirt 2. This features Tim Brickner on bass, Mark Masefield on keys/B3, and Francis Valentino on drums.
Blink Of An Eye is a slow bluesy ballad. Caroline is a rocker with some nice guitar work, about, yes, a girl. Shine On is another nice ballad. Electric Religion is a funky slow song with some good licks and B3 action. Matter Of Time is a good pop song. Draw The Line is a blues style song with some B3.
Matt has a good vocal range and the style for this type of sound. His guitar work compliments his material quite well. Matt fits into the mold created by KWS, Jonny Lang, etc., and is competent to carry on the blues/rock tradition.
By R.M. Engelman