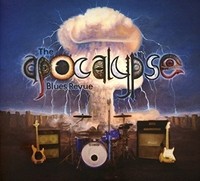 This group obviously has some Godsmack influence, in that guitarist Tony Rombola, and drummer Shannon Larkin were members. More importantly, it features their earlier blues influences. The band is rounded out by Ray Cerbone on vocals, and Brian Carpenter on bass. Everybody shared in the songwriting chores. Eric Gales provided some guitar work on The Tower.
Evil Is As Evil Does is a Stevie Ray style shuffle. Junkie Hell is a slow one with the lyrics dealing with the song title. Devil Plays A Strat an interesting song title and song about a 59 burst. I Think Not is a slow piece with some steady licks. The Tower is a slow song with a bit of a Robin Trower feel. When The Music's Over is a nicely done cover of the Door's tune. Whiskey In My Coffee has some neat drum and guitar interaction in a big band style. Blues Are Fallin' From The Sky is a tempo changing blues shuffle. Work In progress is reminiscent of the proven Hendrix style. The Devil In Me is a nice slower song. Blue Cross starts out acoustic goes electric, and ends in various percussion beats.
As with all blues, the lyrics deal heavily on what else, relationships. You can definitely hear more than a little Doors influence along with other blues/rock genres throughout this release. Ray has a blues voice which really works well on the Doors cover. Old friends Tony and Shannon have always been at the top of their respective games. Original blues tunes relying on proven blues techniques, but with a few nice twists.
http://www.theapocalypsebluesrevue.com/
By R.M. Engelman