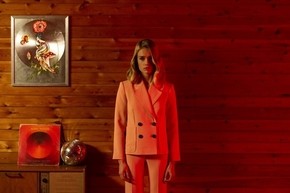 Today, FLORRIE premiers her brand new video for her latest single, 'REAL LOVE' which is due for release on March 25th through Epic Records.
The video, directed with acclaimed director and visionary Emil Nava (Ellie Goulding, Calvin Harris, Ed Sheeran), was filmed in London and is shot in a beautiful yet melancholic house reminiscent of the kitsch décor of a Wes Anderson film.
'REAL LOVE' is composed by Florrie and co-written/produced with Joacim Persson (Robyn, Miley Cyrus) in Los Angeles. The track is bold and imaginative and shows Florrie is back stronger than ever to take the pop world by storm.
On the video Nava comments, "Working with Florrie on the video was a true pleasure. The collaboration process on this video was amazing. From the concept, to the look, to all the fashion I loved it. It was amazing to shoot this video on 16mm film and create such a stand out look. The concept was a bit risky and Florrie absolutely nailed it. We did more outfits than I have ever done and that comes down to Florrie being such a trooper and absolutely going for it. I can't wait for the world to see it. Real Love for this one."