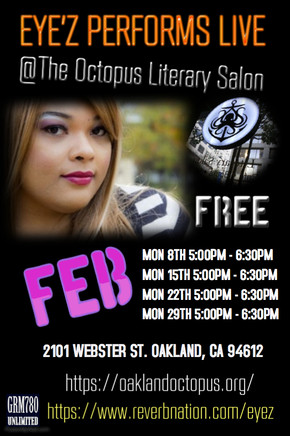 Pop singer Eye'z will be singing/playing the piano at the Octopus Literary Salon in downtown Oakland each Mon starting Feb 8th until Feb 29th from 5:00pm – 6:30pm.
Weekly from 5pm to 6:30pm on Monday from Mon Feb 8 to Mon Feb 29 Pacific Time.
Octopus Literary Salon
2101 Webster St #170
Oakland, CA 94612
United States
https://oaklandoctopus.org
Contact: granroyalemusic@gmail.com
http://TheLovelyEyez.com – "A Diamond In The Rough, A Diamond In The Eye, Its The Crazy One And I'm Not Left Eye"!