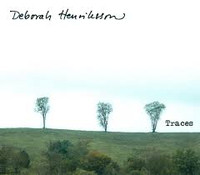 Traces is an eclectic yet unique musical offering from Swedish vocalist Deborah Henriksson. Henriksson has released 4 albums thus far and clearly an established and experienced vocalist. I've been to Europe, and for someone like me no doubt inspiration comes from daily emotive impressions including a bumper-sticker, scribbles on a wall, signs of various purpose and from these static and fixed messages, an evocative and imaginative pulse is brought forth from elements of a European town.
New Jersey born, Sweden based singer Deborah Henriksson has been a glorious work in progress since her 2007 recording debut Simple Gifts, bringing her ethereal vocals and rich, global musical sensibilities to recordings where she re-imagined everything from classical art songs (Simple Gifts) to contemporary folk and Celtic based tunes and pieces by Loreena McKennitt, Eleanor McEvoy, Moya Brennan (from the Irish band Clannad) and even 18th Century Scottish poet Robert Burns (The Heart's Cry). Deborah's ongoing journey of discovering her true artistic expression reaches a powerful breakthrough moment on her latest full length album Traces. The 12-track collection marks her debut as a heartfelt lyricist singing songs that emerge from her innermost places. Her songwriting partner is her longtime producer, Mats Nyman.
With all 12 songs performed by Henriksson and her amazing line-up players there's no questioning musical credibility here which was established from the beginning notes of Track 1 "Trains." As one would expect Henriksson has a good voice that flutters like a butterfly. The Instrumentation features Piano, Strings, and cello, percussive type Celtic bells. I will add she is clearly not new at this. As the CD unwinds the first few tracks "Fly", "Traces" and Evening Star" opens the door slowly while effortlessly flowing into a strong collection of 12 tracks featuring a warm and delightful Celtic-Pop musical environment. Other pieces "Snow Falls" "Soundscapes" and the amazing closer "Calling" present a strong sense of musical cohesion that is to stay the least stunning. Right away I can hear vocal comparables to Celine Dion, Lara Fabian, Delta Goodrem, Diane Arkenstone,
Hayley Westerna, Lisa Lynne. The final 4 track end on a very strong note. All tracks provide well-choreographed music. These latest 12 tracks for me are thoughtful and a stellar performances that are wonderfully organic and worldly in nature.
Traces from Deborah Henriksson is an incredibly artistic vision from an amazing singer and subsequent/musical visionary that is deserving of far wider recognition than this paragraph will provide. Whether you like Worldy-Celtic music or not, rest assured Deborah Henriksson is making her unique musical voice heard in an otherwise commercial myriad of soulless clutter. Perfect pacing, intriguing compositions and a stellar sound have her scoring big here! If this release slipped past you then take you may want take notice ASAP! Link below.
I rarely write worlds like this – really!
Official URL: http://www.deborahhenriksson.com/
5/5 Stars
Brad Halverson
Buy "Traces" – http://www.amazon.com/Traces-Deborah-Henriksson/dp/B00KWGV9LG