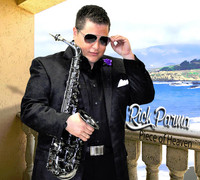 This CD "Piece of Heaven" by Southern California's own Rick Parma is probably destined to be remembered as one of the classic good timing Smooth-Jazz CD's of recent time. I'm an experienced listener of the Jazz standard – and always skeptical as my standards set relatively high. This is not really Jazz mind you but it's close. This is more Smooth Jazz as you would expect. Let's give Smooth Jazz the credit its due shall we – for taking the edge of a billion elevator rides across this would on a daily basis. But seriously folks – like Pop it's more for a mainstream audient than traditional Jazz is and millions just can't get enough of it. .
So who is Rick Parma? Well in my own words: He's a songwriter/saxophonist who draws on life experiences from both the interior and exterior vantage point. His melodic narrative and sincere performances/profile offer an unobstructed view into the heart of an artist who embraces each moment. Looking at him he's clearly a likeable personality and his music is a direct reflection of that. An album born from the smooth Jazz Gods rock like Dave Koz, David Sanborn, Richard Elliot and Boney James "Piece of Heaven" also finds comfortable middle ground between the more tender vocal musings of "Hey Girl" to the powerful intro piece "Besame Caliente" From this electrifying intro number to the final moments of "Treasure" this latest 10 track release hits on all cylinders with a fun musical landscape full of power and happy go luck overtones – with drum rhythms that are very easy to navigate thorough . Some songs are about lost love no doubt while others are about life's sweet victory in life. One thing that impressed me the most about this album/band is the sheer impassioned Blues-Funk-Smooth Jazz vibe one gets. There's a slight Fusion-Spanish-Caribbean ambience in there as well. All of the above really sucks in the listener, but also hints of Funk and Blues based Jazz is present as well. The CD is professional grade any way you look at it – very professional sounding. The instrumentation and tones give you that genuine feel of good music and writing from a recent generation ago. It's also sad Smooth Jazz is fading from the radio dial. It also has a solid feel reminiscent of more radio friendly Jazz popular in the nineties. All members in his band are solid musically. Kudos goes out to the amazing playing – the proof is in the playing and I'm confident Parma could play in a no holds Jazz band as well. In music said you can't sell what you don't truly believe, in this aspect Parma seals the deal and captures some vintage lighting in a bottle via his amazing playing and singing touch that will ring true not only for older more experienced listeners but new ones as well.
My favorite tracks: Hey Girl, Passion, title track
"Piece of Heaven" by Rick Parma wraps up a well-rounded 8 track line-up that delivers an interesting cross section of Smooth Jazz, Funk, Blues and even a dash of spicy Spanish-Caribbean. Once again – despite this it is accessible to modern day radio listeners as well. How is this possible? Only an experienced artist armed with an honest, genuine, sincere approach like Parma can pull it off. Parma is not a bad singer either. I know I said it before but Parma is backed up by some solid players who are capable of a whole lot more outside this marketable format. Armed with solid production instincts, a sincere writer's touch and a soulful gift for playing/singing/writing Parma proves once he's a force to be reckoned with in this infectious musical realm.
URL: http://www.rickparma.com/
Score: 4.5/5 Stars
Posted by Sydney Page