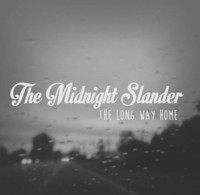 From Cleveland, Ohio comes rockers The Midnight Slander who just released their latest CD entitled "Long Way Home" in 2014 (Spectra Records). TMS are Dave Conner (Guitar/Vocals), Mike Gray (Bass/Piano/Organ), Al Rodriguez (Bass/Drums). Right from the start of Track 1 "Shattered" it might be easy to just categorize these 3 as a straight ahead "dime a dozen" pop-alt-rockers and write them off as the newest trending band around Cleveland. It wouldn't be wise, though. Sure, if you listen to some of the more catchier moments within this 5 song EP: that's the impression you would likely get. However there is a method to their madness. There are some really well crafted, good songs on "Long Way Home" This 9 Track offering dares to step outside the modern rock music boundaries and go towards Soul/Rock/R&B and even Funkadelick Folk. As a vocalist Conner is not afraid to color outside the lines musically and bare his true soul to the world. Some of the lyrics are powerful and I believe he believes every word he sings. Of course much of this goes against the grain of modern day pop-rock with many feel has lost its way by leaving its soul at the studio door in an attempt to please the corporate music world. As a result Conner's amazing writing style really opens up the CD emotionally. This enhances the listening experience rather than limit it for me. So there's really not a lot about this Cleveland band that's "dime a dozen" is there. Zeroing in on their sound these 3 are obviously experienced at performing, producing and writing music, but its how the music is delivered (speaker to ear) that makes these latest songs stand out from other artists and bands.
Favorite tracks are: Tennessee, Love, Ohio and For you
I mean we take a lot for granted between the lines and notes and although some would claim there's nothing here that hasn't been said or done before – if you listen to the songs carefully the devil is in the details. Perhaps that is why The Midnight Slander is on our radar screens in the first place. Bottom line is these guys make it all look too easy. Forgive me if I'm talking in circles – but some bands and artists can deliver music that's pretty straight forward, conservative and painfully simple. Yet brilliant in scope. Furthermore in lieu of the amazing string of songs "The Midnight Slander" deliver on this amazing 9 record it almost feels as if they are really on to something – well special.
"Long way Home" by The Midnight Slander is a one of a kind CD from a one of a kind band that's closely tied to classic rock even folk alt-rock pop. Despite this it has a more modern alt-rock sound. I hate to pigeonhole but I can hear Hootie and the blowfish, Gin Blossoms, Dishwalla, Deep Blue Something, Evan and Jane, Five for Fighting and Train. The Midnight Slander will please a wide range of musical personalities in the process of their exposure.
SPECTRA RECORDS
Primary URL: http://www.themidnightslander.com/
Score: 4/5 Stars
Review by Rodney Cappelletti