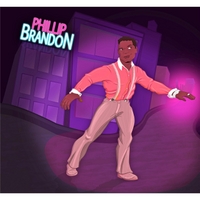 Phillip Brandon's homespun blend of roots rock, Americana, and Soul is captured in his new EP/album which goes by the same name. With just the right mix of sweetness and grit, the music is packed with the lowdown, roots soul that will make you groove and smile. Straight away I discovered Brandon to have a powerful yet conservative sound. I really like the way things kick off immediately with Track 1 "You". It delivers peaceful popish vibe and an uplifting soul and spirit. Bring in some compelling vocals, a powerful writing style with some superfluous Guitar based fretwork you begin to feel right at home with Brandon singing in the background.
Brandon is a good singer/songwriter as he displays strong melodic touches that really bring this collection of songs home. I hate to pigeonhole but right away I can hear artists like Lemar Anthony Hamilton, Robin Thicke, Maxwell and Musiq. Track 2 and 3 "Sail On" and gripping "Turn Around" show you even more songwriting depth. I've heard it said songwriting reveals the depths of the soul – if this is true Brandon can go pretty wide both ways. Despite this Brandon stays within the fairway of Pop marketability but definitely pushes boundaries within that space – especially vocally. This guy could sing virtually any style of music in the hands of a capable producer. I've never heard a vocalist get into the groove as much as with Brandon. I get the impression he's having fun behind the mic and really flowing with the music. These are compliments by the way. The musicianship follows down the same path offering up much in the way of a 4 piece pop-rock band. All songs are built on delightful harmonic notes that are plucked from the heavens. As this passionate good timin', non-provocative narrative unfolds I was blown away by what Brandon has to offer. Telling ordinary tales of extraordinary things really. Sounds so Cliché doesn't it? Phillip Brandon really does connect us to the universal power and love, loss, truth with genuine conviction. It's been said truthful music will set you free. From beginning to end this EP keeps the same feel good mood while maintaining a powerful "truth be told" storyline that is American Pop. As for Brandon's voice he delivers semi-emotional yet invigorating performance that will remind you of a modern day Lionel Ritchie or Luther Vandros.
In conclusion, this is one CD that will bring back memories of a not so distant age where good folk-Pop-Rock stirred the airwaves and the as a result the souls and hearts of millions. This self-titled EP by Phillip Brandon possesses a more simplistic feel but is brilliant nonetheless. All the while inspiring people with amazing musical energy to get people singing, dancing, and loving each other again. Isn't that what music is all about?
Final Score: 3/5 Stars
Lori Bentley