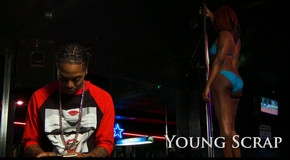 Los Angeles-based hip-hop artist Young Scrap has premiered the music video for his latest track, 'Throwin' Dolla's.' Directed by Barry Williams (V.I.C., Young Swift), the clip is complete with club scenes, neon lights and beautiful women. Young Scrap and Williams, whose previous work together includes Scrap's hit video 'No Love,' prove that they have struck gold yet again with this eye-popping and instantly memorable video.
'THROWIN' DOLLA'S' HERE
http://www.youtube.com/watch?v=t9xs8MRgMxc
 
The Los Angeles born singer/rapper/songwriter Young Scrap built his buzz with his Music We Can F*ck To mixtape series, most notably covered by The FADER.  The series has collected over a million views online and received a Mixtape Of The Year nomination at the 11th Annual Southern Entertainment Awards.