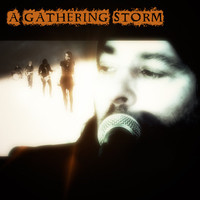 A Gathering Storm is a diverse offering from London based Feral Ghost with vocalist/guitarist Danny Warwick at the helm. Sometimes inspiration comes from daily emotive impressions including a bumper-sticker, scribbles on a wall, signs of various purpose and from these static and fixed messages, an evocative and emotive pulse is brought forth. With a tantalizing mixture of heavy, alternative, blues rock ballads this band combines soulful vocals and thought provoking lyrics with a nice guitar driven rock sound. Perhaps Influenced by Tonic, Better than Ezra, Dog's Eye View this 5 piece present impressive rock playing and songwriting.
There's no questioning musical credibility here established right from the beginning with tracks "A Million Stars" and amazing "Missing You" By the way Danny Warwick is the younger brother of Sarah Washington who had a number of hits in the UK in the mid 90's. Other members include: Paul Castleman on drums, Andrea Marin on lead guitar, Marino Donati on bass and Chloe Hunter, backing vocals and percussion, make up the rest of Feral Ghost. "Am" and "Secret Eyes" presents grooved rhythm section washing over the senses before effortlessly flowing into a hard-pop rocking feel. Warwick lays down a slightly whimsical vocal style presenting a yearning for things to come. "Gabrielle" has these guys playing with a sense of musical cohesion easy to groove to among such comparables as Sponge, Splender. Live and Seven Mary Three. The closing tracks "Who Will Save Me Tonight", "G.I.A" and "Wednesday's Child" can be at times impassioned, flipped out yet at times unpredictable with mysterious lyrics and strategic hooks. Much of Feral Ghost is not to be underestimated or dismissed easily. Warwick is clearly the focal point here and the female background touches from Hunter are brilliant. Within the band he's one of the best vocalists I've heard from a UK based rock band in a while. This CD is packed with thoughtful and a stellar performance that could easily flip to the more self indulgent mindset. "A Gathering Storm" presents a soul stirring, slightly eccentric but incredibly bold record emotionally proving these 5 have a powerful vision. Feral Ghost is deserving of far wider recognition past London.
Whether you like straight up Alt-Rock of more Alternative based Pop format these 5 are making their unique musical voice heard in an otherwise commercial myriad of soulless corporate clutter. Solid playing, intriguing compositions and a rocked out pop sound that knows no boundaries has "Feral Ghost" scoring well with me. If this release slipped past you then you should take notice via the link below!
Rating 4/5
Primary URL: http://www.feralghost.com/
Purchase Link: https://itunes.apple.com/us/album/a-gathering-storm/id809204602
by Andrew Roth edited by Janne Zawa Review comments: jannezawa@gmail.com