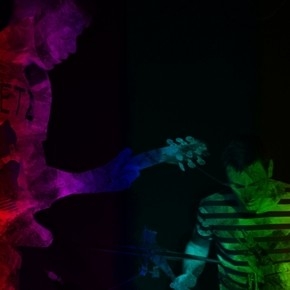 Born out of the ashes of the critically acclaimed Crushing Blows, GHOST TWINS are a noise and dream pop duo from Derby, UK – Their former incarnation CB, earned support from Huw Stevens, Steve Lamacq, Artrocker, Shell Zenner, Jen Long and Simon
Raymonde & more and were regulars on the festival circuit. 'Unknown Animal | Dream On / Dream Off' is the majestic first offering since the band's reformation. With electronics and drum machines coming to the forefront, this aesthetic
evolution reflects the organic changes the band experienced recording their debut album, due in early 2014.
Brand new video for 'Unknown Animal'
http://www.youtube.com/watch?v=rjaXwdJk-kk
The double A side marries the intricacies of their previous work; looped guitars and uncommon time signatures with a more ethereal and experimental pop element that implores Ghost Twins to explore an unassailable myriad of influences that will certainly appeal to fans of Mirrored era Battles, or the Pink Mist heavyweights of Tubelord, Three Trapped Tigers and Tall Ships.