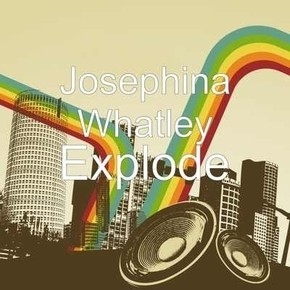 What is Jodi Whatley Brand? It's singer/songwriter Josephina Whatley's performing name and her 'brand' of singing has a promising future. Think Beyonce or Rihana and you get the idea. Her electro pop songs are getting a little buzz on ReverbNation and with a little hard work, it wouldn't be surprising if she ends up doing great things.
Skope: You began singing at an extremely young age singing in choirs and performing in talent shows. How has those experiences affected you as a songwriter?
Josephina: I have learned to just go with my inner voice and being confident doesn't mean perfection.
Skope: Do you write from personal experiences or are you more of a storyteller?
Josephina: I write from personal experience and tell lifes story. It is my motivation. I like to look around the world and write about who i see it.
Skope: Do you write all of your music as well or do you work with a producer?
Josephina: I work with producers and have co-produced many of my songs, building melody and harmonies and cords and so on.
"Explode"
http://youtu.be/c6j7azffQb8
Skope: Do you play any instruments, such as piano or guitar?
Josephina: No, but I will say my Voice is my instrument.
Skope: Describe to Skope readers what your sound is like? I hear some pop and electro sounds mixed with hiphop beats…?
Josephina: My sound is like Pop, Dance, Electro and Hiphop mixed up into a Fusion of greatness. Beyoncé mixed with Rihanna and a touch of Rock.   I am all about fusing styles together, I am a rainbow of music.
Skope: What artists have influenced you most as an upcoming artist?
Josephina: Michael Jackson, Eric Benet, Beyoncé, Rihanna, Ke$ha ,Janet Jackson ,Mariah Carey, Adele, Celine Dion, and myself for sure, Josephina Whatley.
Skope: Your single "Explode " is getting some attention on ReverbNation. Do you have any plans to put out an album?
Josephina: Yes, for sure my focus is one at a time currently, but in the future I am looking forward to a full album release.
Buy: https://itunes.apple.com/us/artist/josephina-whatley/id661267690  
Skope: Where can people go to get your single?
Josephina: Itunes and Amazon.com
Skope: What does the future hold for Miss Whatley and do you plan on performing live to promote your music?
Josephina: The Future looks great thanks to God.   My fan base is growing so my focus is to keep it growing. My focus is my brand, to build the Whatley Brand. My mama Pam, Papa Sabree and family has supported me so much. My sisters Jameka and Apryel. My special friend Raynard who keeps inspiring me. My musical buddy and friend   TaMarcus who keeps me on edge and on tone lol. My great Friend Millard and Stephan Jerome believing in me. My support system is a must to create great music. My Niece De'Ja keeps me Turnt up and relevant. I will be pitching my songs to artist while i create my works. I have great people in my life the Famous Kim Burse is very much a person I see in my future working with. Kim is honest, we speak often and she tells me the truth about my songs and helps me so much. Success to me is when I am happy about what I am doing point blank period, and I am very happy and I can't wait to share more music with the world and explode.
Make sure to keep an eye/ear out for this up and comer and join her on Twitter @jodiluv to say hello.
http://reverbnation.com/josephinawhatley
Douglas Garnett – douglas.garnett@gmail.com – http://digdugdisaster.com