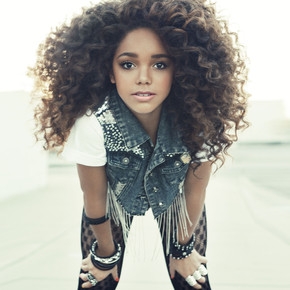 Teenage pop dynamo Jadagrace, who was discovered by LMFAO's Redfoo, will release her debut single, "Run Dat Back," on iTunes today. The track, which earned Jadagrace major buzz on Radio Disney, is the first single from Jadagrace's upcoming debut album for Epic Records. She is currently working with veteran record executive Kerry Gordy and Epic's Tricky Stewart, who has produced tracks for Beyoncé and Justin Bieber, among many others. R&B legend Smokey Robinson has been mentoring Jadagrace in the studio and has lent his vocal and production talents to the project as well.
[youtube jQ9SIatYJFQ]
Jadagrace shows off her performing chops in the dance-driven video for "Run Dat Back," which features her own choreography and an appearance by LMFAO's Redfoo. The video premiered yesterday on VEVO. Watch it here.