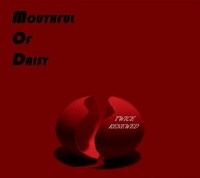 Despite initial setbacks, it is a rejuvenated Mouthful of Daisy these days. Once removed from the confined tastes of their hometown of Vancouver; a new lineup in place and a chance recording session in New York City, the outfit is back making their brand of aggressive Indie/Alt with fervor. The recording session at Killingworth Studio yielded their second full-length album, Twice Renewed. Though I can only speculate, the album title sounds like an autobiographical reference to the state of flux the band has experienced (see: more on the "flux" later).
[youtube dPvkXNqS1Uk]
The opening acoustic pickings of "Girl In Need of A Lullaby" gives a clear nod to Spanish-style guitar before the searing melody takes the reins of the track. A steady chug of electric guitar riff work underlines the slightly gruff vocal delivery of lead singer Michella Dobrosavljevic. A melodic midpoint is hallmarked by intricate finger work and wispy, effects-laden vocals before the aggressive pace cranks back up through to the outro. "Shadow of the Night" features a power pop vein with the chug guitar reserved for the chorus, while the verses lay atop a foundation of electric melody. The urgent pace of the percussion carries this rocker through to its finish. The slowed tempo of "Planet Fluff" illustrates MOD at its most melodic with acoustic strums, slight piano tinkles and bent note Blues fills. The spacey groove of this tune is the other bookend to the agro opening track while the bulk of the tracks residing in the mid-tempo range. "Taken Away" continues the spacey feel with layered electric reverb before it plays tandem with the urgent vocal delivery. The heavy chug electric returns at the chorus while the vocals and musicality crescendo through the bars. The deep, darker feel of this track rounds out the myriad "conjured emotions" of the album.
As of the recording, it seemed that MOD had solidified its lineup only to see new vocalist, Kaija Kinney join the fold after a "lengthy audition process" and has been performing through all of their live shows. Founding member J'ace Franklin said: "She has taken the songs from the album to a place that we never envisioned while staying true to the overall sound and style that is found on the album." Here's hoping their membership is finally solidified so that ongoing support of the album can continue to get this one out to fans.
http://mouthfulofdaisy.bandcamp.com/music    
by Chris West
[Rating: 3.5/5]