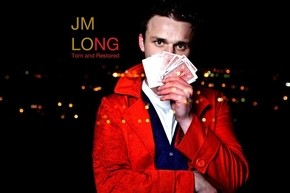 They say immersion is the best way to learn a thing. If that is indeed true, then singer/songwriter Jeremy Long is continuing his education, hands-on and fully immersed.Long's introduction to music began early in his childhood with a family tradition of sorts. "I started taking piano lessons when I was six or seven," he said. "I guess my first tangible musical memory was my first piano lesson, learning at the keyboard. But at the time I was really into basketball so piano and violin lessons were kind of a drag. I guess I was 12 when I started writing my own songs and I realized it was my passion. I started spending more time in the living room than on the basketball court."
Middle school saw the creation of his first original rock band alongside his three best friends but high school was a defining moment for the fledgling musician. "I took music classes in my high school in Portland and recorded a lot there and I was privileged to take lessons from a world-class guitar player (Tim Ellis) so, that was really cool."
[youtube 8lcBPM-XYKo]
Long left Oregon after high school to study at L.A.'s Musician's Institute, pursuing a program that encompassed the expanse of the music industry. "I knew that the two best cities in the US and probably world, for music were New York and L.A. So, I went with the warmer city," he said. Songwriting and performance classes honed his lyrics and musicality, A&R reps gave him access to the ins and outs of record labels and his final project left him with his first EP, Torn and Restored.
The capstone of his education saw Long assuming the helm on the EP as artist, producer and sound engineer and gave him the myriad perspectives that come along with album creation from start to finish. "At MI our final project was to create an album so I decided to do an EP because it would be good to shop around to labels," Long said. "Just three songs and I really wanted to focus on less material than try to cram as much as I could on the album. I recorded most of the instruments myself except for drums and some bass and I did a lot of the production, I got some help with the mixing and mastering. It was a really DIY approach and I learned a lot."
"I definitely focused most of my energy on the actual songs themselves," he continued. "Rather than recording an idea that say, isn't really finished and then trying to fix it all later; I would rather have it really down and perfect before I even start that. So my focus was the writing to make them coherent within their context."
Now post-graduation, Long is remaining in his new city, just off the boulevard in Hollywood and appropriately just down the road from another one of his initial musical goals: to play the House of Blues. Earlier this year the he was able to scratch that one off his L.A. bucket list.
Long is staying within the industry immersion and plunging headlong into his budding career, focusing on a new full-length he wants to complete in a year; he recently signed with a management company and continues to gig in his new hometown. It is refreshing to speak to someone who still has stars in his eyes in pursuit of his profession, so Jeremy…. Skope wishes much, much luck to you going forward.  
You can find his pictures, music, bio, etc. at http://jmlongmusic.com/ or like him on Facebook at http://www.facebook.com/jmlongmusic. Visit http://www.verylongmedia.com/ to see their official company website.
By: Christopher West – cwestlaz@gmail.com