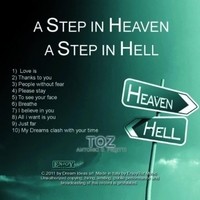 About the Artist: This is Piretti's debut release. Researching his bio He is from Italy but now makes his home in the Toronto area. I really like the BIO section of his Reverbnation site. Rather than explain who he is as an artist he breaks the mold and puts many inspiration quotes that capture the essence of who he is.  
Review: A Step in Heave, A Step in Hell   is one release that certainly doesn't disappoint. This is artist that brings to the table effective songwriting via a highly emotional musical delivery. This meshed with a one in a million Euro-Pop-Rock sound and effective visuals and vocals makes for a very effective combination no doubt. Piretti is just a breath away from Modern Folk or even Folk-Pop but he skillfully and methodically never crosses the line into that realm. All songs are wonderfully simple but masterful in their overall arrangements. Music reminded me of a cross between Ray LaMontagne, Amos Lee, Dave Mathhews Band and Joe Purdy. This CD is quite entertaining overall with an amazing vocal front of Piretti who is a musical triple threat in my mind.   He is a world class songwriter; he has an amazing voice and has likeable appeal (visually and vocally). His lyrical content is straight from the heart and offers a very strong and confident soul searcher perspective and spirit. No doubt many females will like Piretti and his music. All song do exactly what they are meant to do   via well-crafted movements and top tiered musicianship. The overall production value is superb with a crystal clear sound quality.
Top Tracks: Please Stay, Love Is, Thanks to You
Criticism: I'm not a big fan of the cover art concept to be honest. Ironically it lacks creativity and is a poor representation of both the artist and the music. The CD title is a bit striking. Why not name it   "A Step in Heaven" to take the edge off this last issue.  
Song Samples from Thankful @ CD UNIVERSE:
http://www.amazon.co.uk/A-Step-Heaven-Hell/dp/B006CBVVLS
http://www.reverbnation.com/Toz
Conclusion: Antonio Piretti has proven herself again with this latest release. H is clearly an up and coming talent around Canada and all band members backing him up are clearly capable musicians. I must admit "A Step in Heave, A Step in Hell " sucked me in like a powerful drug and refused to let go long after the CD was over. This usually indicates he is something special about the artist or band in question. Thus deserving praise, recognition and musical fame at the international level.
Drew Blackwell edited by Rory Richardson
[Rating: 4.5/5]