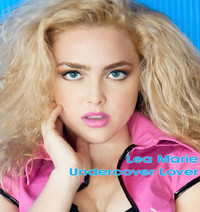 Over the years we've seen rock and even earthy Pop slowly erode into over-commercialized, corporate puppet shows providing music that is extremely sing songy, predictable, popish and highly corporate. I hereby call this new breed of music "Poser Rock" and I want to personally thank all the corporate giants for successfully transforming "Sex Drugs & Rock n Roll" into "Yoga, Vitamins, and Cheesy Pop" Of course millions of musical lemmings don't know the difference, but not everyone is amused. Talking to many music fans out there the response is overwhelming. Give me something new, something raw, something that pushes the envelope with a   fresh sound that doesn't leave its soul at the door. Something that doesn't sound like Ke$sha or Katy Perry or Travis McCoy.
[youtube wG8JWiGlR_s nolink]
So across my desk slides the new EP sampler by LA based Lea Marie entitled "Undercover Lover."What I heard put a smile on my face.   It's a nice easy flowing record that delivers solid songwriting with a nice Dance-Pop feel. Lea Marie reminds me of Britany Spears except with a better voice and more addictive persona. Her music will remind you of Pink, Pixie Lott, Jessi J and the Saturdays.   You will also hear a side of Power Pop, and even a Spanish Dance groove. If you like the above bands you should definitely check out this CD. My favorite track is probably "Take Me for a Ride."
"Undercover Lover" by Lea Marie is clearly a solid release with many feel good grooves with a pleasant Dance-Pop sound that is a pleasure to listen to. I might add Lea Marie has solid Productiion instincts having written all the songs herself, sang all the songs and harmonies and even co-produced the whole album. Lea Marie is clearly a self-developed artist with much in the way of talent. Her latest release gives us a fresh glimpse at an amazing artists from Los Angeles and takes us back a few years — before everything started sounding like — well Ke$sha or Katy Perry or Travis McCoy.
http://www.leamariemusic.com
http://facebook.com/LeaMarieMusic
http://youtube.com/LeaMarieMusicdotcom
http://twitter.com/LeaMarieMusic
Kevin Huber
Edited by Cyrus Rhodes
4/16/2012
[Rating: 4.5/5]