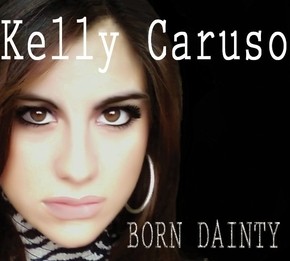 Man am I tired today, after taking in The Dream tour last night in Boston @ Wilbur Theatre. Great show, that's for sure. Another show you all must see is the performance by Snoop & Dr Dre @ Coachella where they used a 2Pac hologram. Go to Youtube and search "2pac hologram." It is incredible, and I bet many deceased musicians will be announcing tours soon. Now I know I give AI a hard time but my guest, Kelly Caruso knows how to work that HUGE exposure while pushing her own music. Kelly is going viral with her new video/single "Not Dainty" and I am real excited to have her on. Join us as Kelly shows her new video, talks about her family helping her in music, being on Ameican Idol twice, and much more!
Stoli: Where are we talking from today and are you excited for spring/summer?
     
Kelly Caruso: I'm actually visiting my parents today in Pittstown NJ.   I live in Point Pleasant . I am really excited for the summer because not only do I have a full schedule of gigs coming up, but I will be able to enjoy beach time too! I love it!
     
Stoli: Is Kelly Caruso your real name or is that your musical alias?
Kelly Caruso: Yes, it is my real name. Ha, makes a great stage name right?
     
Stoli: At what age did you start singing/performing and how much did your family/friends help support your dreams?
     
Kelly Caruso: My Mom said I watched musicals from the time I was about 1 –I memorized the songs because I watched them over and over.   Plus my Dad always had music playing since he was a rocker himself! I started singing around 3 years old. I have videos from when I was little and my first performance was my third grade talent show.My mom dressed me up as Dorothy from The Wizard Of Oz with the fake dog, ruby shoes and dress and I sang Somewhere Over the Rainbow.   The room was packed but I got up there and performed…and it was an   amazing feeling. From then on I knew I was meant to sing and perform for people. My friends loved when I sang. They would make me sing everywhere! My parents supported my singing 100% . My mom actually has an amazing singing voice but she never had the opportunity to do anything with it and my Dad is one of the best bass players if not the best in the world..He has been playing since he was 13 and is still performing with Garage Rock band The Doughboy's, Americana band Gar Francis Band and the Delta Juke Joint Band Plainfield Slim & The Groundhawgs . There was always music in my house…stereo, movies, band practices..It was great!
     
Stoli: Being on American Idol twice is amazing. How did that exposure boost your fan base and do you think they should let you suing your original songs instead of covers?
     
Kelly Caruso: It was an amazing experience. During Hollywood week in season 9, I was on The Kodak Theatre stage from where they host the Annual Academy Awards later that month. Being on American Idol got me a lot of exposure from news papers to TV. Going to Hollywood twice was amazing season 6 was great I was pretty nervous I was only 19 at the time then the next time I made it to Hollywood season 9 I made it all the way to the top 71. I got cut the day they picked the top 24. I got to hug all the judges hang out with Ryan Seacrest who is the most down to earth guy -super nice .He was always like "hey Kelly" he remembered me from season 6 ! I got to meet a lot of fun and talented people. Everyone was super nice. It was all very surreal and a part of my life I will never forget! I think singing covers was fine. Picking the right one to sing for the judges was the most difficult. Looking back, I regret not picking a more upbeat song the last night in Hollywood . It definitely makes people say Wow..when you mention you were on American Idol ! I was also on MTV's Say What Karaoke in 2007. I won on the show! Judges included Aubry O Day from the band Danity Kane (she is on Celebrity Apprentice this season) also Paris Bennett from American Idol season 5, and Flavor of Love's New York! It was so cool – I had an awesome time. I have met some famous and some not so famous people during these experiences and I am thankful for every one that touched my life.. I received tons of messages after my MTV debut which was exciting. I have a lot to be thankful for and great memories to look back on!
[youtube 9-Hsux-NOKA nolink]
Stoli: You could be an actress or model but you chose music. What does music offer you on a personal & spirtual level?
     
Kelly Caruso: Singing is my life! I was blessed with a voice and I'm here on this earth to share this voice with whoever wants to listen!   I love being on the mic and performing.   I love seeing people in the audience dance, sing along to the songs and having fun! When they come up to me telling me I made their night – that I was amazing- it is the greatest feeling ever!   I love it! I also love to dance when I'm   not singing to everything! I try to dance as much as I can when I am performing a song. Although   I   love getting my picture taken I could never model !   I would have to diet and   I love food too much!..Being in a movie someday would be something I would love – I have watched so many of them (some favorites over and over) I should be able to act in one!
     
Stoli: Your new single/video is out now for "Born Dainty." What is the message & meaning to you for this song and where can we purchase it?
     
Kelly Caruso: You can find my song on Itunes http://itunes.apple.com/us/album/born-dainty-single/id504952129 Rhapsody, youtube and every download music site. The message is pretty much that I was a dainty little girl once..but growing up and having to get through tough times has definitely made me a stronger woman.   I can pretty much face anything head-on.
Stoli: How was working with Gar Francis & Kurt Reil on the song and how much input did you have?
     
Kelly Caruso: They are great musicians -very smart and talented ! Gar is a great producer as well as a talented songwriter. I was honored to be asked to record Gar's song Born Dainty..that was input enough for me!
     
Stoli: You are now signed with Bongo Boy Records. How did you hook up with them and how have they helped push the single & you as an artist?
     
Kelly Caruso: Through my Dad, who is fortunate to have Gar as a bandmate and also a best friend! Since the single came out Monique at Bongo Boy Records have helped get it out there by interviews, radio and newspaper, air time on local radio and Nashville. It is amazing how much support I have gotten from their team! I also try to let the audiences know when I am singing with my cover band, Garden State Radio. It was a great learning experience recording. Lots of hard work, sweat and tears go into making a recording – and I am not just talking about the singer! I am looking forward to recording again and hopefully Gar is penning me some future hits! I would welcome the opportunity to work with Gar & Monique , my Dad and Kurt and record more for Bongo Boy Records in the very near future!
Stoli: How do you balance being in Garden State Radio as well as your solo efforts?
     
Kelly Caruso: I do the Garden State Radio every weekend and some week nights.   When I am doing gigs, I try to let people know that my single is out there. Right now I am working with amazing musicians (including my GSR drummer) on a new music project called Radio Nashville. It will be an   all country cover song band. I am really excited about it. shows dates will be announced soon but check-out our facebook page.   Also check out Events on Garden State Radio Facebook page.   Come rock with us -enjoy songs from 60's to present!   It is a fun band and I love singing my heart out! Between these two bands – a lot of   lyrics in my head lol
     
Stoli: What is your ideal setting/mood to write & play music?
     
Kelly Caruso: Well I   haven't dabbled in writing…yet…but if I do, I think the mood would have to be a quiet mellow one where I could concentrate and write down my feelings.   I play music whenever and wherever I can…loud!   I always feel like no one can see or hear me in my car…so I am always practicing my song lyrics in the car with the music blaring…I am sure my car shakes while driving and people must think I am nuts!     Of course, I also listen to songs in the quiet of my bedroom…especially if I need to learn the lyrics.    
     
Stoli: Being so young & ambitious you have to sacrifice. What advice can you offer others about sacrifice & pursuing your dreams?
     
Kelly Caruso: Well I'll say one thing..Never give up! Don't be upset about being rejected..use it as a learning experience to get better. If I ever become famous then I will look back and be thankful for all times I didn't give up.   Most of all I am thankful that I am doing what I love right here and now! I am so happy I am young, healthy and singing to the crowds..I hope I will   be singing 'til I am an old lady!
     
Stoli: What is coming up for you & where you @ online?
     
Kelly Caruso: I have a show April 14 at the Borgata in Atlantic City, April 20 Bar A in Belmar NJ, April 21 Harrahs Eden Lounge in Atlantic City, April 26 Shannon Rose, April 27 Session 73 in NYC,and April 28 Beachcomber in Seaside NJ. Online you can go on my Fan page   http://www.facebook.com/kellycaruso86     or Garden State Radio Band http://www.facebook.com/GardenStateRadio. Events get updated every week. We are booked for the whole summer   You can also find me on twitter @KellyCaruso09 Don't forget to check out Radio Nashville Band for upcoming dates and http://www.bongoboyrecords.com for their new releases.   Looking forward to a very busy summer!