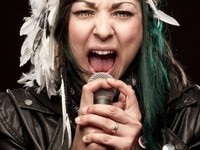 Geri X is an indie/folk/rock singer songwriter from St. Petersburg, Florida who has been getting a ton of respect from publications as big as the L.A Times and Rolling Stone, and a lot of fan support in turn. The meat of the matter is — is she good? Delving into Geri X's new album "Work is the Wolf", I'll share my subjective thoughts on this question.
"You Can Have Me" is a dark, bluesy number with lo-fi production from one angle, although it's absolutely perfect for such a dirty, early PJ Harvey inspired piece. Geri X's vocal delivery is unafraid to let loose, and this, I can see clearly, is what sets her apart from the pack. "Belly Up" has similar minimalist drums and sparse guitars to play up Geri X's moody, distorted vocals. The backup vocals sound angelic, and they add a ton of intensity to a lead that is already intensely emotional. She seems able to go deep within, and yet not play the needless wallowing card as so many artists do.
"Work is the Wolf" is, right away, another special song. It's at this point in the release that I'm realizing how unique this artist it. The minimalism of the music is necessary. The vocals are the connector to the soul here, and also the main instrument. The discipline of the other musical elements is in playing to the song rather than over-delivering. "Actual Air" is ethereal and beautiful, with a mood of acceptance and release.   "Instigating Defeat" takes on the indie pop genre, and this works in context with an honest artist like Geri X. In fact, the sugary chorus adds dynamics to the album. After all, just as we feel pain, we laugh, we love, and we play too.
The album continues, to be honest, without a real miss. Highlights for me include the sparse "Boom Boom", with it's very affecting chorus of "My chest goes boom, boom, boom". Geri X knows the secret of not overloading the listener, and making the simple work. "Live Fast Die Young" is another stunner that finds Geri working out her sultry baritone over spoons, a distorted harmonica and a single bass drum.
Geri X has an album that is close to flawless here, and I personally enjoyed the grit that it seems so few artists in the indie, folk, or singer-songwriter "genres" seem to have. It would be nice to hear Geri REALLY let loose once in a while a la Carina Round, but she certainly has opened the doors here for that kind of expression. I would highly recommend this release to fans of PJ Harvey, Carina Round and the Black Keys.
James Moore – james@independentmusicpromotions.com
[Rating: 5/5]