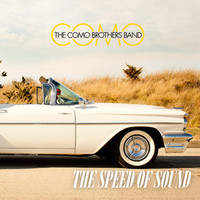 The Como Brothers Band are a rock band from Long Island, New York currently promoting their newly released "The Speed of Sound" EP. While their promo shots look a little similar to those representing boy bands, their sound is surprisingly rock on some of their tracks. This could work well in their favor though, as it does make them stand in sharp contrast to the sometimes overly moody nature of rock imagery.   Because of the clean cut image, I was naturally expecting an overly safe musical experience, but I was pleasantly surprised.
Listen:
http://www.youtube.com/playlist?list=PL60620502E86C330B
 
"Underneath It All" starts the album with some strong momentum, with a groove that's part alternative rock, part brit-pop. Interpol meets Jimmy Eat World. Normally, I'd shy away from a straight-forward track like this, but somehow, the Como Brothers Band throw a slight curveball that makes this digestible. Taking a typical vocal line and a predictable chorus, it's the authentic "singer's accent" and unique musical changes that save the day and put the band in the front half of the alt rock pack.
"You Are My World" sounds 100 percent different from "Underneath It All", almost like another band. However, it's a very well done song. While this isn't something I'd personally spin on my stereo, I would nominate this song to make it as a hit. It's very catchy, and fans of everyone from John Mayer to Michael Buble would enjoy it. If this song doesn't get a well-done music video and a ton of radio promotion, it's a waste. Very broad appeal here and that's no lie.
"I Don't Like You" is a very catchy rock song falling somewhere between Sublime, Red Hot Chili Peppers and Foo Fighters, with its funky verse and huge alt rock anthem chorus. The vocals are charismatic, and lyrically, you wouldn't expect such a rational argument from a song called "I Don't Like You". Instead of an immature diatribe, we get a very clear statement on pessimism and respect, and the smart way the words are dished out gives you a respect for the band. The Como Brothers Band unite well on this track, with a generally memorable groove that is repeating in my mind already.
"Can I Be Matched With You" is pure Beatles influence, and it's nice hearing these classic chord changes with modern, distorted guitars. Once again, the Como Brothers Band demonstrate their skills for pop melody and memorable hooks. It's so poppy that it could be too much for some, but fans of the extreme up-beat will jive with it.
The Como Brothers Band give a good taste of their abilities on "The Speed of Sound" EP. Some of the material sounds as if it's on the edge of having real depth, with an authenticity radiating from the band. At other moments the music is too "cute" and poppy to get a good reading of the intention put into it. Though I have a mixed view of the release, it's quite strong, and the score should reflect the quality rather than solely my angle.  
James Moore @ james@independentmusicpromotions.com
[Rating: 4/5]