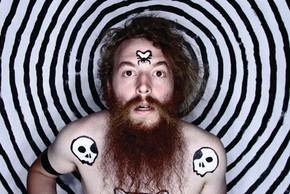 Andy The Doorbum is the moniker of Andy Fenstermaker, who earned his handle as the 7-night-a-week bouncer at the famously seedy Milestone Club in Charlotte NC. And like the dirty, boarded-up, crack-addled population surrounding the Milestore Club, such is the imaginative landscape of Andy the Doorbum's music. Tales of gravediggers, fratricide, and familial failings fill his new, 4th LP entitled "The Man Killed the Bird, and With the Bird the Song, and With the Song, Himself," which will be coming out April, 17th 2012 on Slanty Shanty and Afterbirth Casserole Records.
Andy the Doorbum – "The Farm" MP3:
Andy "The Doorbum" Fenstermaker was born in the Pennsylvania town of Titusville, tucked away in the northwest corner of the state. It's the birthplace of the oil industry, and the place where, years later, his father would add to his cumulative jail time by drunk-driving his pickup truck into town hall. Shortly after his birth, Andy's family loaded up everything they could carry into their '52 International pickup truck and moved to Gaston county N.C. A childhood spent bouncing back-and-forth between the Alleghenies and the Appalachians has given Fenstermaker a wealth of stories centered around drugs, death, history, religion, and a pantheon of morally ambiguous characters to inhabit them.