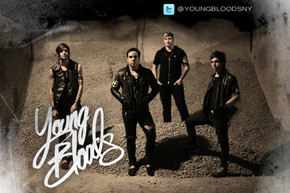 When Streaker Records first approached Young Bloods they were at the beginning of starting their 2nd album yet to be titled. We expressed our marketing plan and how we felt Young Bloods would fit into it for the 2011 year. After some back and forth over the phone frontman Joey Arena and Streaker Co-Founder Rob DPiazza decided this new CD needed to signify a growth in Young Bloods.
Almost as being Reborn into a new more complete grown up band. Joey decided on the title "REBIRTH" which would feature previously recorded tracks reworked and remixed with the help of key producer Sam Polizzi of GFI Studios as well as a cover of Usher's DJ Got Us Falling In Love.
[youtube LLU3DI5FLxE nolink] [youtube gEmsPfe4VZU nolink] [youtube Xg9KDpO1O9Q nolink]
Over the course of the 2011 Vans Warped Tour Streaker Records successfully distributed over 8000 copies of the Rebirth EP charting Young Bloods as high as 16 Nationally on Billboards Heetseeker chart and Number 1 in numerous regions including the North East.
Young Bloods online metrix and fan base grew exponentially over the summer and helped to land Young Bloods on tour with Rookie of the Year, as well as being the main support for New Found Glory, Four Year Strong, and Everlast in Rochester NY.
The Beginning of 2012 mark another key achievement as Young Bloods are now with Maphia Management (Eyes Set To Kill, Dr. Acula) and set to release the follow up album "End of Days" to be release sometime before June 2012 by Streaker Records.
http://purevolume.com/youngbloods
http://facebook.com/youngbloodsband
By: Scott Stewart – scottstewartphotography@gmail.com
http://www.scottstewartphotos.com/
https://www.facebook.com/streakerrecords