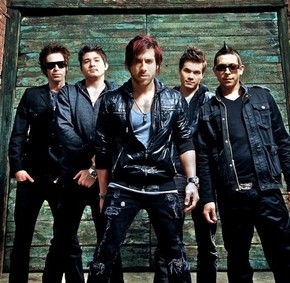 Lights Over Paris dropped its first EP, Turn Off The Lights EP on April 13, 2010 on Type One Records/Digital Records. With musical influences ranging from AC/DC and Oingo Boingo, Kanye West and Lady Gaga to Blink 182 and Green Day, Lights Over Paris is not limited to one particular genre.
"The EP is really designed to have very unique tracks that suit various types of moods the audience could be feeling on any given day. I wanted to make an album where all the songs didn't sound the same", says TaLLLLL, "My influences were all over the place."
Although the music comes first, the social interactions come in a close second. Lights Over Paris is the marriage of music and the show Entourage.   The parties are not just a way to blow off steam as much as they are a way to bringing fans to that next level of being a part of your favorite band. "People should expect a lot of movement and random events happening throughout the show" states TaLLLLL "A little after party to get to know the fans, always something eventful. Fans are most important to us." Lights Over Paris have been known to create events just so that fans can get involved and get the most out of there Lights Over Paris experience.
AUDIO STREAMS: "Turn Out The Lights" Windows Media: