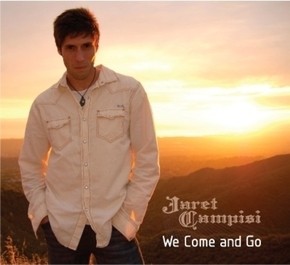 When listening to his debut EP, "We Come and Go" you get a sense Campisi has a lot to say. "On the EP, Campisi offers up cheerful jams ("Falling Into Place") and wistful folksy numbers ("We Come and Go") with some serious heart and soul" (SB Independent).  
The EP was recorded at the world class Playback Recording Studio with Sound Engineer and Record Producer, Tucker Bodine.   Also sitting in on the album were top session studio musicians from Berklee School of Music, Adam Stehr (Drums and Lead Guitar) and Tom Mitchell (Bass).
www.cdbaby.com/cd/campisi4
 
Jaret is certainly making quite a name for himself.   He has played countless live shows, was hand selected to play for GAP's 40th Anniversary celebration, and has been selected to play Santa Barbara Earth Day, a celebration that will draw a crowd of around 20,000 people.
Jaret is not only having success playing live, his song "Staring Up" from his EP "We Come and Go" was the most requested song for the month of August, 2009 on LA's biggest independent radio station, Indy 104 – IRADIO LA.
Jaret Campisi "Staring Up" MP3: