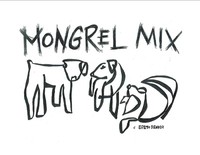 Mongrel Mix is an eclectic blend of unique styles where it seems music is coming from all directions.   You're not just getting chocolate or vanilla from this group; you have a wide variety of flavors to choose from.   Everything from straight rock to classic rock to roots & folk; you're getting a little bit of this and a little bit of that.   You even hear elements of blues–sometimes classic-sounding and even folksy at times–, funk, Latin rhythms, acoustic folk and classic pop.  
This wild mix of musicians is made up of four individuals: Barry Preston as writer, arranger, lead guitarist, lead vocalist and producer–Ted Pileggi as bassist, background vocalist, writer, arranger and productions–Gregory "Ju Ju" Jones as drummer, percussionist and background vocalist & Ed Wagner on keyboards, organs, samples and production.   These four men bring excellent musicianship to the table along with an incredibly strong group unity that is heard loud and clear.   Each member has their shining moments on this new CD and it's so refreshing to hear.
The incredible aspect of this band is that they play under a contemporary style and a retro vibe all at the same time.     Mongrel Mix are not just combining opposite musical genres but in reality they are mixing two separate eras together.   The end result is that it works well because the vintage classic feel gels perfectly with the new-age mojo.   Their finished product is very interesting to say the least yet extremely satisfying to witness.  
Coming off their first album, Predatory Heat, Mongrel Mix have a whole new batch of songs to entice your senses.   The song "Predatory Heat" is actually featured on this new album and I have to say that it is very experimental-sounding.   On track nine, "Take it so Lightly", the words are really stressed here by Preston as the whole phrase seems to be quite thought-provoking.   This Philadelphia-based group ends the disc with an all-out jam session where the drummer & guitarist are just killing it and going off majorly.  
Three things really stood out to me as I listened to this self-titled record and that would be the vocal performance, drumming and guitar playing.   Barry Preston's vocals were so passionate and genuine where you can actually sense that he was feeling every syllable and word that he sang.   Plus, Barry's approach to singing really solidified that dimension between classic meets modern.   Next, the guitar solos/parts were simply rockin' 'n' rollin' all day and were just literally on fire throughout the recording.   Lastly, I was most impressed by the drumming display coming from Greg "Ju Ju" Jones.   Jones had constant beats to keep you in the mood throughout the album.   There are very distinct rhythms here, which turned out to be some hellacious drumming on the part of Greg Jones.   "Ju Ju" played with such a driving force & authority through all 10 tracks and I just simply loved it!  
There is no way you can classify Mongrel Mix and their music within a specific category.   They simply make their own brand of music for a diverse group of people to enjoy.   Love 'em or hate 'em, Mongrel Mix will definitely make you stop in your tracks because of the high originality factor.   For more on these artists from the city of brotherly love, SKOPE out www.mongrelmix.com.  
By Jimmy Rae
[Rating: 4/5]