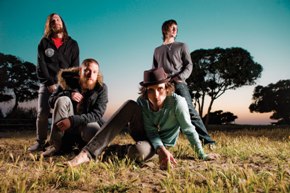 The All American Rejects are set to take over television this week with stops at both MTV and NBC. With their first stop, on July 11th, front-man Tyson Ritter and crew are set to make fans green with envy when they get a glimpse into the life of a Reject on MTV's cribs.
On Wednesday the 15th AAR will join hostess Alexa Chung on her new MTV show where the band will play "I Wanna" live for the first time on television. The Rejects will wrap up their week with a special performance on NBC's The Today Show on July 17th.
Check your local listings for air time and visit www.AllAmericanRejects.com for more information! When The World Comes Down featuring "I Wanna" is in stores now!
"I Wanna" embed: