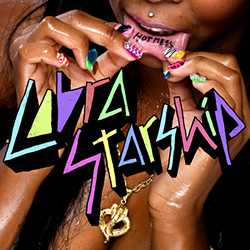 Have you been waiting for the sassy Cobras to release the track list for their new album? Well now you can stop waiting, because it's out!
1. Nice Guys Finish Last
2. Pete Wentz Is The Only Reason We're Famous
3. Good Girls Go Bad (featuring Leighton Meester)
4. Fold Your Hands Child
5. You're Not In On the Joke
6. Hot Mess
7. Living In The Sky With Diamonds
8. Wet Hot American Summer
9. The Scene Is Dead; Long Live The Scene
10. Move Like You Gonna Die
11. The World Will Never Do (featuring B.o.B)
Along with the eleven announced tracks, you can now pre-order the album in four fabulous versions! Starting at $11.99, you can buy just the standard CD, and nothing more. Or if you're willing, you can pay more for a DVD, bonus tracks, and a sweet golden necklace based off of the one on the cover! However, if you're in need of a new hoodie, and a shirt and still want all those extra goodies, be ready to pay 100 bucks, and be one of 100 people in the world to own that version.
To pre-order, you can do so now at the Fueled By Ramen Webstore: SKOPE IT HERE
Also, don't forget that they are going on tour next month in support of the album, called the "Hot Mess Across The U.S." tour, it is intended to be a small tour, at small venues. They weren't kidding. Check the the max. capacity of some of the venues listed, and you'll be surprised.