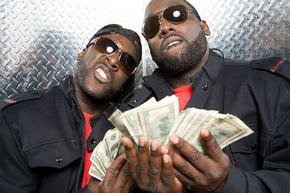 Mutt teamed up with his twin Brother BULLET BOY aka Jeff Goseby and they plan to become a household name. "Thugged Out" is beyond doubt on their way to joining the rap royalty ranks of successful rappers Lil Wayne, TI and Jay Z.  
When asked about the difference between Mutt and his twin brother Bullet, Mutt says he is flashier and more of the swagger guy type, who at times likes to joke and have fun. Quite the opposite of his brother Bullet, whose attitude is more gangster, more serious and more laid back.   He admits that they have run games to pull women.   Like shy brother, similar to the scene in the movie "Five Heart Beats".    
Despite being products of the ghetto, losing their beloved older brother Mafioso and all the other obstacles they have overcome, "Thugged Out" are extremely proud of being able to rise and succeed.   "Thugged Out" you will find is the voice of the people. They guarantee that their upcoming release "Global Thugs" is something that everyone can relate to and will be able to be enjoyed from beginning to end.  
Thugged Out "I Be Fly"
[youtube LXkVQJOPOZo nolink]
Thugged Out "Money On Deck"
[youtube b88s3o_hNzw nolink]