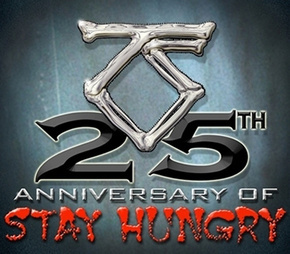 Rhino Re-masters 1984 Top 20 Smash Album With A Bonus Disc Of Unreleased Studio Recordings, Plus A New Track By The Original Lineup For 25TH Anniversary Edition.
After rocking clubs from Los Angeles to New York City for more than a decade, Twisted Sister made its bones in 1984 with the quintet's second Atlantic Records release, a Top 20 album that stormed the charts with a string of hit singles and genre-bending videos.
Rhino proudly wears a Twisted Sister pin on its uniform, celebrating the album's
multi-platinum success with a 25th Anniversary Edition that includes a bonus disc of unreleased outtakes and early demos from the original sessions, as well as a new track recorded especially for this collection by the 1984 lineup: Dee Snider, Jay Jay French, Eddie Ojeda, Mark Mendoza, and A.J. Pero. STAY HUNGRY 25th Anniversary Edition will be available June 30 from Rhino Records at all retail outlets, including www.rhino.com, for a suggested list price of $19.98 (CD), $12.99 (digital).
TWISTED SISTER STAY HUNGRY 25TH ANNIVERSARY EDITION
LISTENING PARTY – WMA:
Photo Credit: Mark "Weissguy" Weiss/courtesy of Showtime Archives (Toronto)