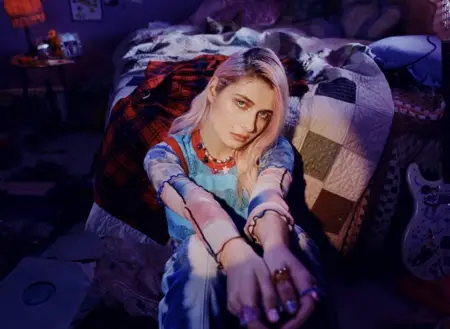 @skopemag news – friday – november 10, 2023 @ 10 am est
https://www.facebook.com/SkopeMag/
https://twitter.com/skopemag
https://www.youtube.com/@skopetv2
https://www.instagram.com/skopemag/
APP – Apple iTunes –
https://itunes.apple.com/app/id1465224822?mt=8
@skopemag APP – Google / Android –
https://play.google.com/store/apps/details?id=hr.apps.n207414718
Support @skopemag –
https://www.paypal.com/donate/?hosted_button_id=3APKAKT8K6ETW
Toronto's Wrené Unleashes Her Dark Wonderland with Electrifying Single 'Venom' from Album Metamorphosis
KRISTIN HAYTER, FKA LINGUA IGNOTA, ANNOUNCES TOUR, SELLS OUT CARNEGIE HALL DATE
K Camp Answers Fans' Demands With The Highly Anticipated Video Release Of "Spin The Block"
BOZA SHOWS US HIS SCARS ON NEW SINGLE "BARCO DE PAPEL"
Psychedelic Porn Crumpets anounce wild sixth album 'Fronzoli', featuring lead single 'Dilemma Us From Evil'
GLOBAL POP SUPERSTAR DUA LIPA RELEASES NEW SINGLE "HOUDINI"
Lainey Wilson Announces "Wildflowers and Wild Horses" As Next Single Following Big CMA Wins
Media Release | SHINING BIRD RELEASE NEW SINGLE 'OUT OF THE BLACK'
Beéle sorprende con su nuevo sencillo "Morena"
RICK ROSS & MEEK MILL RELEASE NEW ALBUM "TOO GOOD TO BE TRUE" OUT NOW!
ATLANTA RAP STAR RALO RELEASES NEW SINGLE "FIRST DAY OUT" TODAY!
NEWLY SIGNED AUSTRALIAN ARTIST MATTHEW IFIELD RELEASES A CHRISTMAS ALBUM OUT NOW VIA CAPITOL RECORDS/EMI MUSIC AUSTRALIA
TISAKOREAN DROPS NEW SINGLE "TTU"
YOUNGBOY NEVER BROKE AGAIN – NEW STUDIO ALBUM 'DECIDED 2' DROPS TODAY
TRIPPIE REDD RETURNS WITH SURPRISE EP SAINT MICHAEL IN HONOR OF NEWLY BORN SON
BRANDY RELEASES SOULFUL NEW HOLIDAY ALBUM CHRISTMAS WITH BRANDY
BABY QUEEN RELEASES DEBUT ALBUM 'QUARTER LIFE CRISIS'
floweroflove DROPS DREAMY NEW SINGLE FOR "A GIRL LIKE ME"
CHRIS BROWN GIFTS 11TH SOLO STUDIO ALBUM '11:11′ A DAY EARLY TO FANS — LISTEN NOW!
KATE PEYTAVIN RELEASES HAUNTING NEW SINGLE "KILLING TIME" OUT NOW VIA CAPITOL RECORDS / S10 ENTERTAINMEN
Jonah Kagen Shares New Single & Video, "Made Up My Mind (feat. Lily Meola)" | 'The Roads' EP Out 12/1
Platinum Artist / Ode to Caring Nurses
Swedish alt-pop riser Edgar Homeros goes deep on eclectic new cut "Televised"
Nina West Releases Debut Single 'Trouble'
Instrumental Melodic Metal Discovery Aaron Cravens Drops "Pray For Us" Single & Video
NEVER ELECTED Release New Single/Official Video 'All My Life'
OUT NOW: Maud – Let Me Feel It (FFO Caroline Polachek, Charli XCX, felicita)
(Out Now) Country Rapper David Morris Releases Highly Anticipated Album "Bored In The USA"
Kolly Borda shares masterfully crafted garage cut 'Wishes' – Out Now on DJ EZ's Nuvolve imprint
Lockyer Boys Share New Single "DRIVE!"
Passenger & Ed Sheeran Re-Record "Let Her Go"; 'All The Little Lights (Anniversary Edition)' Out Now      
Layperson releases new album "Massive Leaning" on Lung Records
OUT NOW: Hojean releases an official music video for his single 'Cruel' // Watch here
OMAH LAY RETURNS WITH NEW SINGLE "HOLY GHOST"
2 CHAINZ & LIL WAYNE DROP "LONG STORY SHORT," NEW SINGLE FROM WELCOME 2 COLLEGROVE ALBUM, ARRIVING NOVEMBER 17th VIA DEF JAM RECORDINGS
070 SHAKE SHARES NEW SINGLE & VIDEO "NATURAL HABITAT" FEATURING KEN CARSON OUT NOW VIA DEF JAM RECORDINGS
ARMANI WHITE RETURNS WITH NEW SINGLE "BREATHE" OUT NOW
MAZZA L20, AITCH & POTTER PAYPER UNITE FOR "MURDERSIDE REMIX"
MIMI WEBB IS "BACK HOME FOR CHRISTMAS" ON NEW HOLIDAY SINGLE OUT NOW
THE KID LAROI RELEASES HIGHLY ANTICIPATED FULL-LENGTH ALBUM "THE FIRST TIME" OUT NOW
RICAN DA MENACE DROPS BOLD NEW SINGLE & MUSIC VIDEO "FUC NO" AVAILABLE TODAY
GENIA RELEASES POIGNANT NEW SINGLE + VIDEO "DEAR LIFE" AVAILABLE TODAY VIA DEF JAM RECORDINGS
CRUISE ALONG THE HEARTBEAT HIGHWAY WITH CANNONS' NEW ALBUM OUT NOW