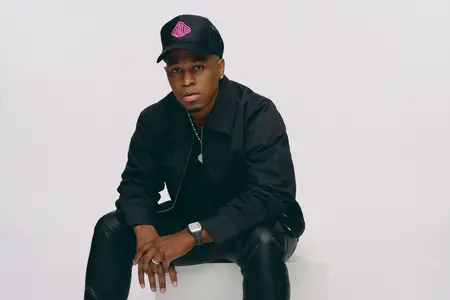 What's your image of a church girl? Is she buttoned-down and proper? Is she modest, retiring, and reluctant to speak out? Are her eyes on the promise of the next life rather than the splendor of the present moment? If that's what you think, you're not alone — but Jor'Dan Armstrong is here with a powerful corrective message. As a chart-topping writer and singer of faith-driven popular music, Armstrong is an authority on the subject. He knows that church girls are deeply attuned to earthly pleasures. They're moved by the spirit to sing and dance and have a good time, and as long as they are, he'll be providing the soundtrack.
Though it's part of a larger narrative project that spans a trilogy of EPs, Church Girls Love R&B — Girls Trip isn't just a playlist for the ladies in the back pews. It's a set for everybody who understands that hedonism isn't incompatible with serving the Lord. Armstrong is an expert at fusing hip-hop beats, luscious R&B vocals, and gospel intentions, and tracks like "MIA" are simultaneously uplifting and booty-shaking. It extends a winning streak that also includes Billboard #1 singles "My God" and "Call," a collaboration with Erica Campbell, and it sustains the intensity that Armstrong brought to his opening slot on Jonathan McReynolds's tour. He's not just the future of gospel music. He's also a pop evangelist, bringing together artists of radically different perspectives, sharing ideas, and blending styles into a harmonious whole.
For "MIA," he's joined forces with the irrepressible 1K Phew, Stellar Award-winning rapper, songwriter, and good-hearted roughneck. Armstrong does gospel-inflected R&B; Phew's specialty is Christian hip-hop. But the Louisiana-born singer and the Atlanta-based emcee are both deeply rooted in the Southern church musical tradition — and they go together like Saturday night and Sunday morning. Armstrong handles the deftly sung first verse, and Phew takes the propulsively-rapped second one; they're an ideal balance, united by their devotion and love for a good time. In the enormously entertaining clip for "MIA," Jor'Dan Armstrong is a celebrity chef commanding the kitchen of a modern home, and 1K Phew is a guru cross-legged in the living room, ready to lead the viewer on a guided meditation. They're joined by a trio of church girls, but nobody is dressed for services. Instead, they're there to celebrate God's greatest gifts: joy, camaraderie, fun, and life at its most fulfilling.
Follow Jor'dan Armstrong:
https://jordanarmstrongmusic.com/
https://www.facebook.com/JordanArmstrongMusic/
https://twitter.com/WheresJor_Dan
https://www.instagram.com/wheresjor_dan/
https://www.tiktok.com/@wheresjor_dan