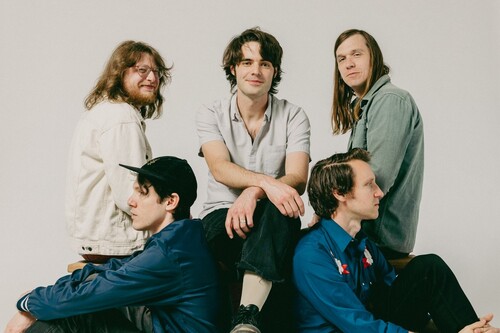 @skopemag news – tuesday – september 5, 2023 @ 4 pm est
https://www.facebook.com/SkopeMag/
https://twitter.com/skopemag
https://www.youtube.com/@skopetv2
https://www.instagram.com/skopemag/
APP – Apple iTunes –
https://itunes.apple.com/app/id1465224822?mt=8
@skopemag APP – Google / Android –
https://play.google.com/store/apps/details?id=hr.apps.n207414718
Support @skopemag –
https://www.paypal.com/donate/?hosted_button_id=3APKAKT8K6ETW
REPENTANCE Release Sophomore Album "The Process of Human Demise"; Out Now on Noble Demon
Chicago, Illinois-based metallers REPENTANCE have released their highly anticipated sophomore album, The Process of Human Demise, today via Noble Demon. Listeners can expect an album that combines aggressive riffs, powerful vocals, and thought-provoking lyrics, creating a captivating musical journey through the depths of human emotions and the struggles of existence. Produced by Alex Lackner at Accelerated Sound (with mix/master by Chris Collier at CMC21 Productions), the record's pristine production quality perfectly captures the band's raw energy and intensity.
Video: MC Slader ft Ariano – Watch Over Me
Aaron Marcus Tenorio also known as MC Slader born October is an indigenous Emcee of Kewa Pueblo, New Mexico, formerly known as Santo Domingo Pueblo. Slader has been rapping since the age of 16 and has developed an enormous love & admiration for the community and his craftsmanship. Collaborating with California Veteran Ariano on his debut single and video Watch over Me". Video directed by IllAlien , the song has an intense and powerful arrival for MC Slader. At 21 MC Slader is just getting started.
Vancouver's The Get Arounds Release Gritty Power-Pop Video-Single "Black and White"
Vancouver's premiere power-poppers The Get Arounds have just released a new video in support of their new full-length album, I Wanna Live. The video for "Black And White" was shot in Vancouver, with Wazo Productions, a new company owned by Kelly and Juniper from the band Clone. Singer Lana Ryma reflects on the process, "We had a great experience filming with Wazo and can't wait to do another one. The set took a few days to prepare and filming took about 8 hours. Plus not to mention editing time. Crazy how much work goes into a 3 minute song! It was shot at Powell Street Studios which is a multi use recording studio, production space. The song is a reflection on an old friend and the realization we are living in very separate worlds now. People change. Life goes on. Sometimes it's easy, sometimes it's challenging. And now we agree to disagree. The chorus idea came about from an acid trip Carman had a long time ago, when he fell asleep his dreams were all in black and white!"
OUT NOW: Cinematic Electronic Producer Hologramme releases 'Slow' single
Salisbury's CARSICK Reveal New Standalone Single 'Put It Down' Out Now via Alcopop! Records
Salisbury punk rockers CARSICK are pleased to announce a brand new standalone single 'Put It Down', which is set for release on 5th September 2023 via Alcopop! Records.
SCALPING change name to SCALER + share new single "LOAM" (produced by Daniel Avery) | UK tour announced for November 2023
Today, Bristol four-piece SCALER have shared a new single titled "LOAM" which was produced by critically acclaimed electronic musician and DJ, Daniel Avery. Alongside the single the band have also announced details of a headline UK tour for November 2023.
Oxidize release new single – Greedy minds
The Gaslight Anthem share new song; first album in almost a decade out Oct. 27
The Gaslight Anthem have shared their new song, "Little Fires," available now at all DSPs. The song is taken from their eagerly awaited new album, History Books, out October 27 on their own Rich Mahogany Recordings label via Thirty Tigers. It was produced by GRAMMY® Award-winner Peter Katis (The National, Kurt Vile) at his Tarquin Studios in Bridgeport, CT. More than any of the band's new songs to date, "Little Fires" reflects The Gaslight Anthem's origins in punk rock. Furthering that connection, the track includes guest vocals from one of the genre's current central figures: PUP frontman Stefan Babcock.
RIIZE Releases Debut Single "Get A Guitar" Via SM Entertainment/RCA Records
The partnership between SM Entertainment and RCA Records was announced at a press conference on September 4th KST in Seoul. The news proves RIIZE's power as global leaders of the next generation by signing with a major U.S. record label before making their official debut, as it's a rare occurrence for most K-Pop groups.
OTEP Unleashes Explosive Rendition of Eminem's Rap Rage Anthem, "THE WAY I AM"
OTEP unleashes her acerbic arsenal with her latest sonic attack, "The Way I Am," following closely behind the fury-filled shrapnel of her previous single, "Ostracized," from upcoming album The God Slayer, available worldwide September 15th. OTEP's unapologetic, nu-metal reimagination of Eminem's "The Way I Am" amplifies the Rap God's unadulterated anger with a new vitriol all her own. OTEP's wrath-filled rendition of this rap classic takes a sledgehammer to the Pollyanna image of the perfect celebrity, shattering the listener's rose-tinted glasses with a power-packed, bass-heavy beat, blistering bars, and driving rhythm, complete with high octane screams and a bludgeoning breakdown. OTEP's silver tongue shines with her transformative take on this hip hop hit, as she spits rhymes, seamlessly keeping in time, all the while ripping the words from the page to rearrange into something truly one of a kind.
Irish Punk Band SPRINTS Announce Debut Album on City Slang + Share Lead Single, 'Letter To Self' Out 1/5/24
Dublin's SPRINTS announced their debut album today. Letter To Self will arrive on City Slang Records on January 5, 2024. The punk quartet are sharing new track and video, "Up and Comer" which follows previously released stand-alone singles "Adore Adore Adore" and "Literary Mind", both of which appear on Letter To Self. The album is available for pre-order here. SPRINTS will make their North American debut in November with a headline show at Baby's All Right on November 15 (tickets). More US tour dates will be announced shortly.
Temps (James Acaster) Shares New Single & Video Feat. Blanck Mass & Gaston Bandimic / New EP Out Sep 8 via Bella Union
Soul Glo Share Turbulent New Single "If I Speak (Shut The F*ck Up)" & NSFW Music Video
Today, Philly hardcore experimental extremists Soul Glo share the new single "If I Speak (Shut The Fuck Up)", the band's first new music since 2022's breakthrough album, Diaspora Problems (Epitaph). The song arrives ahead of their co-headlining tour with Los Angeles band Zulu that kicks off this week in Denver, CO. Produced at Jamtown Studios in Philadelphia by GG Guerra with additional drum engineering by Evan Bernard, it was then mixed by Steve Evetts, and mastered by Alan Douches.
Paradime Shares Heartfelt Ode To His Daughter With New Video Single "Annie"
Detroit legend Paradime is back with "Annie," his new video single heralding global women's empowerment. Named after his daughter, "Annie" is a compelling song that graciously embodies the father-daughter bond. The new single is the latest release taken from Paradime's forthcoming studio album Period. due out September 22nd on Mello Music Group. Watch "Annie" music video:
Yung Esckimo Releases "The Code" Single/Video Today
With "The Code," Esckimo continues to emphasize his hustle mentality and the success he's had on his own. "N***as try to pull me down but I came even stronger / N***as tried to stop my grind but I went even harder / And I done took so many L's, that sh*t don't even bother," he raps.
CaptC Releases New Single "Crazy as can be"
Central Mass singer songwriter CaptC has released a new single, "Crazy as can be," a about falling for a wild woman whose idea of fun is skydiving, race car driving and blown up hornet's nests.
The Midjourney music video brings the story in the song to life.
Jessika's Debut Album 'World Ain't Ready' Out Now
The album features previously released anthems like the cathartic "Therapy," the upbeat "Fuck Our Fears" featuring GASHI, the empowering "Nine Inch Heels," the deeply heartfelt title track, and the wistful lead single "Her," which garnered support from Billboard, BBC Radio London, and MTV. Jessika has received additional media acclaim from iHeart Radio, 1883 Magazine, and The Honey Pop.
A-ZAL – 'Movie Script' – The Debut Single that is Storming the US Charts
The 10-track album is influenced by British and American pop across eras that A-ZAL describes as "a blend of some high-octane tracks and also some singer-songwriter tracks like Ed Sheeran's". He, in fact, recently released his own version of Sheeran's Perfect, a song he says "…really lived with me like no other. It's encouraged me to get out there for something which I had initially set out for".
Jerry Joseph Premieres "Loving Kindness" with American Blues Scene Today
"Loving Kindness" was one of the songs Joseph wrote in a borrowed vintage camping trailer parked in his driveway in the midst of the pandemic. His neighbor lent it to him to give him a quiet place to write while his entire family was home. The collection of songs he wrote there eventually became King, but they don't share a theme or a common thread beyond when and where they were written, although most of them deal with the bigger issues we were all grappling with at that time. "Loving Kindness" came out of deep discussions with a close friend about forgiveness, mostly forgiving oneself.
Jerry Joseph Premieres Single 'Loving Kindness' From Forthcoming Album
Trevor Rabin launches 'Push'; second track taken from 'Rio', his first new solo vocal album in 34 years
Trevor Rabin, the South African guitarist, singer, multi-musician, writer and producer, recently announced 'Rio', his first solo album of vocal material in 34 years, set for release on October 6th, 2023 worldwide.
Today he is pleased to reveal the second single taken from the album, and you can now watch the video for 'Push' here:
Los Angeles Punk Band Death Lens Sign To Epitaph Records & Share Anthemic Label Debut "Vacant"
Hailing from East Los Angeles, alt-punk staples Death Lens proudly announce their signing to Epitaph Records. Comprised of Bryan Torres, Matt Silva, Jhon Reyes, and Eduardo Contreras, the foursome has three albums under their belts, a split EP with The Frights, and opened for acts such as Enjoy, Together Pangea, Cherry Glazerr, Militarie Gun and many more. Reflecting on the occasion, the band enthuses,
RUEBIK – Into Your Mind
RUEBIK arrives once more on Dutch imprint High Tea Music as part of their 'Ginseng' compilation series and his new single 'Into Your Mind', with the full package again pulling together frequent guests and collaborators for another stellar collection of tracks. After his explosion onto the scene in 2020, winning the NZ Music competition hosted by Toocut and George FM, the music and DJ accolades which followed has included a range of tastemaker names. With support from the likes of Bou, Mt Eden, Blaine Stranger, Ben Snow and more, RUEBIK has continued to move up the ranks with his eclectic production style. First being based in South Africa but having moved to his current home in New Zealand (known for being a hotbed of drum & bass) he's now played across continents as he's worked diligently to further his career within the genre.
THE DEATHLESS DIVIDE Unveil Haunting Single "1916"
Transatlantic trio, THE DEATHLESS DIVIDE have unveiled their haunting debut release, "1916". The band's rendition of the track, originally written and performed by CAKE BAKE BETTY, delivers a powerful and captivating sound.
Slaughter Beach, Dog Share 'Engine', New Album 'Crying, Laughing, Waving, Smiling' Out 9/22 on Lame-O Records
'Engine' is an especially personal song for Ewald, about the moment he realized he would be a career musician, and how rare and special that is. He spent the past decade dreading the moment he would have to give up life on the road to get a job in an office. But recently it's occurred to him that being a musician might be his life, because after all, it has been for the last ten years and it only continues to grow. In his words,
Finnish Melodic Doom Heavyweights KAUNIS KUOLEMATON Announce New Album; Share Music Video For First Single!
Finnish heavyweights KAUNIS KUOLEMATON have announced the release of the band's brand new album Mielenvalta, which will be coming out on October 13 via Noble Demon.
SuperStarzSingerz celebrates back to school 2023!
Happy 1st Day of School to all students whether going to elementary, Middle, High School, or College! Some states have started earlier, as well as college students, but anyways! Although I am not a student myself unfortunately.
#TBT to this original Song Life In School, where you learn about the most interesting things, and sometimes the boring ones too!
guitarist Wolfgang Muthspiel shares new song; new album out Sept 29
Master guitarist Wolfgang Muthspiel has shared the title track from his soon-to-be-released new album. "Dance of the Elders" is streaming at all DSPs now. The album, Dance of the Elders, sees the award-winning Austrian musician accompanied by bassist Scott Colley (Jim Hall, Andrew Hill, Donny McCaslin) and drummer Brian Blade (Joni Mitchell, Chick Corea, Christian McBride). It arrives digitally and on CD via ECM Records on Friday, September 29. Limited-edition vinyl will follow on Friday, November 3. Pre-orders are available now.
DYNAMIC SOUTH AFRICAN SINGER LLOYISO IS BACK WITH NEW SINGLE AND VISUAL FOR "YOU'RE SO YOU" OUT NOW
"You're So You" showcases the scope of his multi-dimensional vision. Organ sets the tone for the track, underlining emotionally charged verses. Finger-snaps brush up against his towering delivery as guitar accelerates the momentum on the refrain. Lloyiso, who has co-signs from celebs like Zane Lowe, Justin Bieber, Mike Posner and more, flexes his skyscraper-size range with the chorus, "You remind me who I am when I lose my cool, you're so you, I've been waiting, waiting for someone."
Skope video submission: Declaime X Theory Hazit, "Shipwrecked". ROCKETMAN album out now
Ursa Major Revelation (mem. Bear Hands) Share "Big Baby" Single + Video via CHORUS.FM
Ursa Major Revelation (helmed by songwriter/vocalist Ursula Rose and guitarist Dylan Rau of Bear Hands) will share their debut EP, Big Baby on October 17). Following the release a first cut entitled "Tar Pits," (alongside an accompanying self-directed video), today, the duo shares the EP's second single and title track, "Big Baby."
TERROMANIA: Decibel premiere "Disturbingly Beautiful" video!
Finnish metal newcomers TERROMANIA ink a worldwide deal with Californian label Ripple Music for the release of their debut full-length "Nyctophobic" this November 17th. Watch their new video exclusively on Decibel Magazine now!