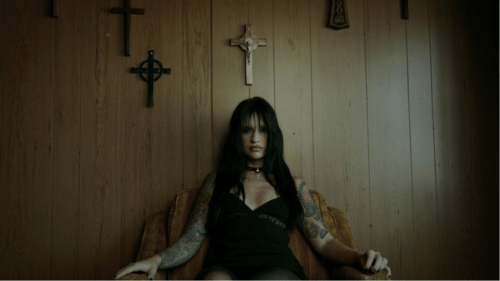 @skopemag news – friday – august 18, 2023 @ 8 am est
https://www.facebook.com/SkopeMag/
https://twitter.com/skopemag
https://www.youtube.com/@skopetv2
https://www.instagram.com/skopemag/
APP – Apple iTunes –
https://itunes.apple.com/app/id1465224822?mt=8
@skopemag APP – Google / Android –
https://play.google.com/store/apps/details?id=hr.apps.n207414718
Support @skopemag –
https://www.paypal.com/donate/?hosted_button_id=3APKAKT8K6ETW
WATCH: Savana Santos | "cheater" Official Music Video
Savana Santos has always been well-versed in the art of transforming angst and heartbreak into pristine, catchy bedroom pop. Raised in Quincy, Illinois, the singer, songwriter and producer has been penning songs since she was just 14, cutting her teeth with visceral, diary-like storytelling. Her love for sharp songwriting, lead her to production, where she taught herself to craft captivating soundscapes, eventually using those talents to form the trio Avenue Beat.
Qwynn Releases New Single "This Moment" & Euphoria Inspired Music Video
(Nashville, TN) – On August 11th singer and lyrical songwriter "Qwynn" released her new single "This Moment," the second single from her story EP highlighting mental health, anxiety, depression, and hope – coming in Fall of 2023.
DRIPPING DECAY: Toilet Ov Hell Premieres Festering Grotesqueries From Portland Death Metal Outfit Featuring Current/Former Members Of Lord Gore, Jungle Rot, Hallucinator, And More
Toilet Ov Hell is currently streaming Festering Grotesqueries, the debut full-length from Portland-based old-school death metal group DRIPPING DECAY. The premiere comes on the eve of the record's official release, Friday, August 18th via Satanik Royalty Records.
RISING R&B ARTIST LAH PAT RELEASES "KAMIKAZE" MUSIC VIDEO
Buzzing New Orleans-born and Houston-based artist Lah Pat reveals his new music video "Kamikaze" directed by AJ Spitz and Christian Vergara. "Kamikaze" notably lands on the heels of the remix of his breakout single "Rodeo" featuring Flo Milli.
Maui-Born Singer, Songwriter Lily Meola Shares "(Don't Quit Your) Daydream" 
Nettwerk is thrilled to announce the signing of Maui-born singer, songwriter and guitarist Lily Meola. Lily earned widespread acclaim with her breakout single "Daydream," which has generated over 60 million streams and appeared on the Viral Top 50 charts on streaming platforms in over 27 countries for the inspirational message and captivating vocals. Now, she prepares to open up her world with her upcoming debut album, details forthcoming.
NEWS: Marie Kruttli Announces "Vif" EP on EveryDejaVu Records
Berlin-based pianist, producer, and songwriter Marie Kruttli is excited to announce Vif EP. The five-track EP is a sonic journey on which Kruttli explores introspective themes of love, life, nature, and time. Vif, Marie Kruttli's Jazz-infused experimental dream pop project is due for release on August 18th via EveryDejaVu Records. Watch the official video for "Watered" here:
Bobby Alu Shares 'Sunsets (With You)' + International Signings
Bobby Alu is releasing his new single Sunsets (With You) TODAY Fri, 18 Aug, announcing new international signings and embarking on his 2023 US and European tour!
Sunsets (With You) is a nod to classic 70's and 80's soul reggae, all about capturing the joy that a sunset brings.
THE DAY WE LEFT EARTH release their new single 'Dead On Arrival'
THE DAY WE LEFT EARTH has grown from clarity to clarity over their debut year. Earlier this year they released a single with Dead By April that became an instant hit with over 1.5 million streams worldwide. Alongside this, the album plan for THE DAY WE LEFT EARTH is set, and will be released in early 2024. As if this wasn't enough, TDWLE have also signed with a bigger booker and have joined the roster along bands like: Lacuna Coil, Arch Enemy, Dark Tranquility and Evergrey.
EYEDRESS & MAC DEMARCO RELEASE "THE DARK PRINCE" SINGLE AND MUSIC VIDEO
KHLOE ROSE RELEASES HER CAPTIVATNG DEBUT EP 'THE IN BETWEEN'
In speaking about The In Between Khloe says: "The whole entire process of releasing my debut EP has genuinely been the most surreal experience of my entire life. The In Between is youthful, heartfelt, and honest. It's the story of a teenage girl processing and accepting her life and her emotions, across things like love, heartbreak, friends, embarrassment, change, and grief."
TAELA Releases "beetlejuice (dead to me)"
TAELA returns with "beetlejuice (dead to me)," released today by Young Forever/Capitol Records. Known for her unfiltered lyricism and heartfelt melodies, TAELA draws inspiration from the beloved movie "Beetlejuice" to deliver a powerful anthem of liberation and self-empowerment.
Thomas Day Shares New Single/Video "Gravity"
2023 has proved to be an impressive year for Thomas Day. He's already amassed millions of streams across his latest singles – "Come Home," "MASOCHIST," and "VICIOUS" – and recently wrapped up a mini tour supporting David Kushner. With his new single, "Gravity," Thomas once again proves himself as a master at channeling his emotions into catchy, radio-ready hits.
From Pain to Power: Econoline Crush Makes Miraculous Comeback with Empowering Single 'Invincible'
LARK Release New Single/Lyrics Video 'Antarctica'
"Most of all, this song it's a real story, it really happened and proved that man can do extraordinary things. By design, this sound brings a positive message and good vibes. Maybe it's nothing special, but large structures are usually made of small elements, which make the difference….."
OUT NOW: Moyka – Perfect Movie Scene (FFO Robyn, Sigrid)
Having revealed her club persona over the course of the single "Rear View", "Already Gone" and "Don't Turn Around", Moyka gives us a more reflective side on the beautiful and heartbreaking new single "Perfect Movie Scene". It's out today via GEMS/Warner Music Norway.
OUT NOW: Josephine Sillars – Slow (FFO hyperpop, chip tunes)
Leeds-based Scottish songwriter Josephine Sillars is quickly following up "That Boy" – her first single of 2023 – with the second single from her forthcoming EP. The title track "Slow" is out today.
THE VAMPS' GUITARIST AND SONGWRITER JAMES MCVEY SHARES HIS DEBUT SOLO SINGLE 'DANCING ON THE HEAD OF A NEEDLE'
Best known for his chart-topping, arena-filling, multi-Platinum success with The Vamps, James McVey now takes a very different approach as he launches his solo project. His first single, 'Dancing On The Head Of A Needle', finds him stepping confidently into introspective folk-pop territory, which was inspired by his love of artists such as Damien Rice. The project took shape as he was recovering from vocal surgery early this year, which is reflected within the vulnerability of his lyrics and the hushed style of his delivery.
K-POP HITMAKERS aespa RELEASE POWERFUL NEW SINGLE "Better Things"
"I wasn't ever sure that I loved you, but I was always sure you would let me down," the group sings defiantly over squiggly synths and spicy percussion. "I wasn't ever sure if I'd trust you, but I'm so goddamn sure my energy is just too precious to waste." KARINA, GISELLE, WINTER and NINGNING then drive the point home on the instantly catchy chorus: "I got better things to do with my time." With its relatable message and summery sound, "Better Things" has all the ingredients of a crossover hit.
Sola shares futuristic and dreamy breaks single "One Breath"
SHORE Drops New Song "Rules"
Today, SHORE releases their third track from their upcoming album "Rules." Available on all digital retail and streaming services via Legend Label Group, the song follows their latest releases "Come Over" and "Lost Time" from their upcoming Love & Distress EP. The song was produced by Adrian Disch and co-written by Colton and Dawson Shorman.
BAD WOLVES REVEAL MUSIC VIDEO FOR SECOND TRACK "LEGENDS NEVER DIE"
POLO G RELEASES POWERFUL VIDEO FOR "BARELY HOLDIN' ON"
"Barely Holdin' On" is the lead single from Polo's highly anticipated new album HOOD POET to be released September 15th via Columbia Records, watch the cinematic album announcement HERE. Polo worked alongside producer Southside on HOOD POET for what is Polo's most personal project yet. With the acronym: He Overcame Obstacles During Pain Or Emotional Trauma, the album reflects everything Polo has been through grappling with the effects of mental health and trauma while doing everything he can to break the cycle and work through the complexities of healing.
Media Alert – Brian McKenzie New Single "Technicolor Moments"
Brian McKenzie releases his new single/video "Technicolor Moments": We are excited to announce the single/video release of "Technicolor Moments," a powerful song that encourages listeners to take a closer look at their lives. The track highlights the importance of recognizing one's patterns and making changes for the better. The title itself refers to the idea that memories can often be viewed through a rose-tinted lens, creating a "Technicolor" version of the past.
HOZIER'S THIRD STUDIO ALBUM UNREAL UNEARTH AVAILABLE WORLDWIDE NOW
In speaking about Unreal Unearth, Hozier says: "A lot of the initial writing took place in the early days of the pandemic. It felt like a very surreal time—as if the earth was on its head. That's the Unreal part. It was also a season of great misinformation. It felt like we stepped into an alternative world. I liked Unearth as a verb 'to dig' or 'to uncover.' It describes a world that is not of this earth. The record is the experience of a journey through a certain period."
THE XCERTS RELEASE NEW VIDEO FOR 'LOVESICK' – NEW ALBUM OUT TODAY