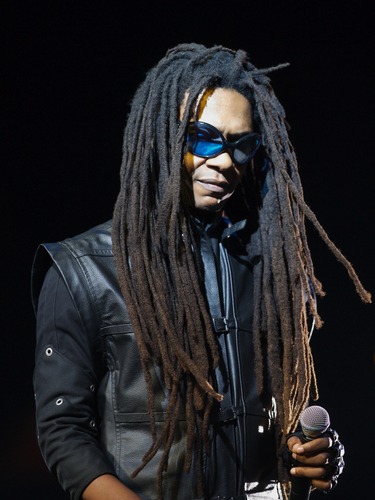 No matter what else is criminalized by the state, it'll always be legal to dream. Those denied opportunity by fate and circumstance will reach across oceans to get it if they must — and it's hard to knock their ambition or hustle. On "Legal Dreamers," the enterprising Miami singer-songwriter Kēvens extends a hand of welcome to immigrants, travelers, and all those making their way in an unfamiliar land. He further encourages the fortunate to put aside their misgivings and greet migrants in the spirit of shared humanity. It's a statement of radical love, and unless your heart is hopelessly hard, we reckon you'll be swept up in it, too.
Kēvens's creative impatience with borders and arbitrary divisions is apparent in the music he creates. He's a master of many forms of electronic music from all over the globe, including UK drum and bass, European techno, tropical dub, and North American club beats. Because he knows that good ideas transcend culture, he's free to make revelatory dance tracks that draw unexpected connections between cultures. His kinetic performances have made him an in-demand attraction at genre-defying festivals like Florida Zen, One Love Japan, and Earthdance. At the same time, his deep understanding of Caribbean roots music has made him a favorite collaborator of the members of Jamaica's first musical family: he's collaborated with Stephen Marley and Damian "Jr. Gong," and performed with many other island legends who recognize his knowledge, his integrity, and his imagination.
"Legal Dreamers," for instance, is a track that could only have been made by Kēvens. It's a seamless union of reggae vocals, dub horns, EDM beats, and pop-rock attitude. The spring-loaded, richly melodic track is a party starter with a powerful message. Kēvens's lyrics pick up right where he left off on the rousing "Sweet Lady Liberty," another track that reminds Americans of their history of tolerance, acceptance, and charity. "We're here because we believe," he sings in "Legal Dreamers," making his patriotism and his defiance manifest in the same phrase.
Those qualities are also apparent in the gorgeous animated clip for "Legal Dreamers." Kēvens shows us America at its most inspiring and its most forbidding — the lamp of the Statue of Liberty, the street protests, the folds of the flag. The video takes us around the world, juxtaposing dusty Township settlements and verdant jungle scenes with the high-rises of Europe and the crowded streets of Asian cities. But wherever the animation takes us, we're shown beautiful faces of humans sharing a dream of a better life. In a special effect that's as profound as it is entertaining, those faces continually shift, morphing with the rhythm, with each depicted individual standing in for thousands of aspirants. Our circumstances and backgrounds may be different. But our dreams are strikingly similar.
Follow Kēvens:
http://www.kevens.com
http://www.facebook.com/kevens
http://www.twitter.com/kevens
http://www.instagram.com/kevens
https://www.tiktok.com/@kevens
http://www.vk.com/kevens