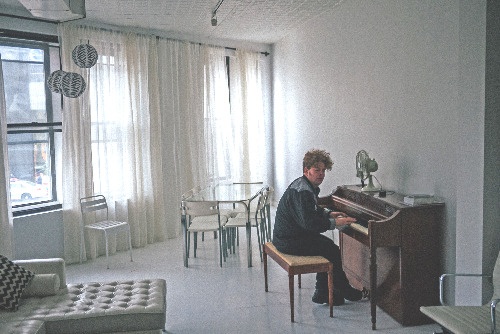 While there is a lot of originality in the music that Greg Hoy makes, it is worth pointing at bands such as Radiohead or Guided By Voices to give you, dear reader, an idea of where he comes from musically. It's not so much the sound or the styles that he uses that draw such comparisons, but certainly, there is something in the refreshing way that he puts ideas together, an ability not to follow the rules, or at least only follow them once he has rewritten them or turned them into an anagram of what they normally are.
https://greghoy.bandcamp.com/album/yay-for-effort
His latest album, Yay For Effort, is a wonderful genre-shifting, musically adventurous, and unique songwriting collection. If the title track, with its broody bassline and world-weary sentiments, could easily have found its way onto albums such as Pablo Honey or The Bends, tracks such as Listen Up, a track made up of spacious beats, simple piano lines and vocals that run between the straight delivery and some hazy harmonies, comes from a very different place altogether.
Fire Drill is a deceptively simple acoustic song that contrasts brilliantly with songs such as Comfort Vendetta, which wanders almost into the heartland rock realms of the likes of Tom Petty, especially if he'd spent more time hanging out with the likes of Buffalo Tom or Dinosaur Jr.
Albums and artists are often easy to put into certain categories, and journalists love nothing more than slapping a convenient label on things. Try that with Greg Hoy; I dare you.
Social media links:
http://www.twitter.com/thegreghoy
https://instagram.com/thegreghoy
https://www.youtube.com/GregHoyOhYeah/
https://thegreghoy.com/