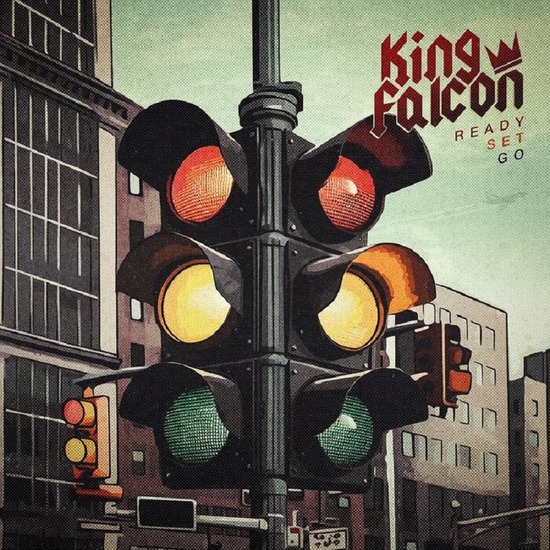 Rock has needed some new revolutionaries for a while now, and this summer, King Falcon is out to prove they've got what it takes to bring on a new renaissance the genre needs to survive. Their amazing single "Ready Set Go" is already out everywhere this June, and while it's hitting record store shelves at a time that has proven quite difficult for artists of all styles, this hasn't prevented a steady stream of hype from pouring in across both sides of the mainstream/indie dial. King Falcon's players are experimentalists in the studio, but their style is indebted to those of the neo-puritans who shaped rock's earliest beginnings.
URL: https://kingfalconband.com/
Michael Rubin, James Terranova, and Tom Diognardi make up the band, and the chemistry all three of these musicians have is something that drives their performance style in every way. There's no forcing the point lyrically or sonically in their music because whatever they're trying to say is being illustrated through the connection they share as artists. That's what I've wanted to see from some of rock's veteran talent in 2023, but to no avail thus far.
Collaborative songwriting has become less the standard in rock n' roll today than it was some six or seven years ago, but King Falcon doesn't undervalue the relationship they can develop together through mutual composing duties. This is partly what makes the juggernaut "Ready Set Go" such a bewitching listen, being that we can tell from the start of the song that every player has a lot invested in this beyond what their instruments can add to the music. You can't go wrong with these musical ingredients, nor the way they're being stewed together in this band's sound.
Their old-school ethics aside, I think that King Falcon is poised to spotlight a burgeoning scene in New York City that hasn't been getting nearly as much love from the American press as it should in 2023. There's a certain eclecticism that makes this style definitively urban in tone and presentation, and it's something that I can imagine a lot of bands both at home and abroad trying to replicate in their own work, likely with mixed to negative results, being that this is as original sound as we could hope to hear in alternative rock. When you go where no one else travels, you see things no one else ever does, and this feels like a bit of a theme in "Ready Set Go."
https://open.spotify.com/track/5ayfXfjt4dGMGb3QWoJo5c?autoplay=true
To say there's a lot of action in NYC music this summer might not be doing what the scene is producing justice, but if you want a glimpse into what the city's best in indie pop/rock is sounding like these days, King Falcon is a band you need to check out this June. "Ready Set Go" is a good sneak preview of what their style is all about, and if it's just a taste of the future, I think the demand for their music is going to skyrocket in and outside of New York in the months ahead.
Gwen Waggoner