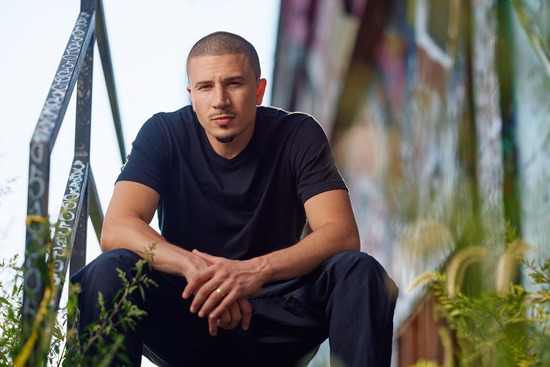 Algerian-American hip-hop artist Slick Naim wants it all, has it all, and does it all. Representing Brooklyn, NY, Naim is not only an award-winning rapper, producer, and R&B artist. He's also an Emmy-nominated writer, director, actor, and TV/film producer—because why not? With four albums, 15 music videos, and over 70 songs, he's garnered millions of listens, views, and followers who loyally imbibe his vulnerable, contagious spirit of hustle. His most recent album, 2022's In The Vault, displays an emcee at the apex of his craft—though probably just a false summit for this man who only goes upward.
The title track off the aforesaid album, Slick Naim's "In The Vault" is a finessed flex track. Boasting about all the ideas and even finished tracks stashed in the vault, Slick casually dismisses doubters while building anticipation for his followers. The beat (produced by Krissio) is as scathing and confident as the lyrics—ripe for live performances that will surely elicit gratuitous "oooh" s from the audience after each ice-cold line on the track.
For a look into Naim's other artistic talents and passions, dive into the Mad-Max-inspired music video for "In The Vault." The expertly shot and edited mini-film makes literal Slick's savage laying to waste of doubters and haters. Out in a relentless desert landscape, he and his wife (director Reema Naim) stave off posers trying to poach his throne.
Fulfilling his word that he's always got more quality content stashed in his vault, Naim's throwing in a bonus video for the kids. Set to another killer track off of In the Vault, the music video for "Scary Slope" is an intimate look into the mind of such a prodigious creative. Over a solemn, slapping beat, Naim pours his heart out to the camera, sharing the struggles of balancing so many interests and accomplishments. Once again directed by his wife Reema, this video features intimate shots of Slick surrounded by the city lights he grew up on. Take notes, kiddos. And put on some sunglasses for the ascent of this star.
Follow Slick Naim:
http://www.SlickNaim.com
https://instagram.com/slick_naim
https://twitter.com/Slick_Naim
http://tiktok.com/@slick_naim