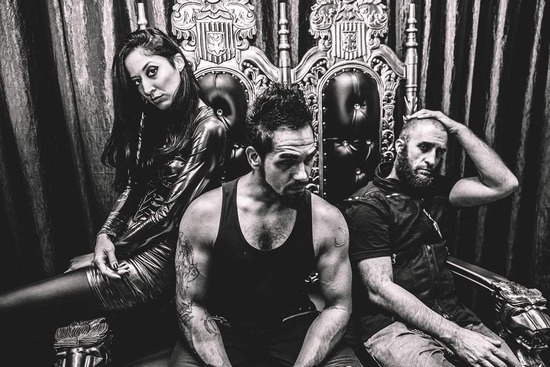 @skopemag news – monday – june 5, 2023 @ 11 pm est
https://www.facebook.com/SkopeMag/
https://twitter.com/skopemag
https://www.youtube.com/@skopetv2
https://www.instagram.com/skopemag/
APP – Apple iTunes –
https://itunes.apple.com/app/id1465224822?mt=8
@skopemag APP – Google / Android –
https://play.google.com/store/apps/details?id=hr.apps.n207414718
Support @skopemag –
https://www.paypal.com/donate/?hosted_button_id=3APKAKT8K6ETW
MINOE shares powerful new video for Cherry
MINOE reveals her flawless accompanying video for her latest single 'Cherry'.
Sultry and raw, it's an explosive offering, here to rip through your intrusive thoughts and captivate you from start to finish.
Los Angeles Alt-Rock Band "Make Believe Friends" Release New Single and Video: "HAUNT ME"
"Wow! The keyboards (in Haunt Me) are appropriately haunting. (Laura's) guitar part before the chorus is outstanding and it is great to hear (Enrique's) wah-wah later on. (Michaela's) chorus harmonies are strong. With Mindy's voice and the band, I think it is up there with Evanescence! (Also) The video perfectly matches the song …. (Mindy's) delivery is emotional and gave me chills." – Warren Kurtz – Goldmine Music Magazine
COLOSSAL STREET JAM Unleashes New Single & Music Video, "Seconds"
New Jersey based, Bluesy, 70s influenced Rock Band COLOSSAL STREET JAM has released the Official Music Video for their new single, "Seconds"! With the music video filmed and produced by Soto / Sinestra Studios, "Seconds" is off of COLOSSAL STREET JAM's critically praised new album, No Way To Live!
ROCK AT NIGHT PREMIERE: Colossal Street Jam's video 'Seconds'
KAZIMI Shares "Fever Dream" Single
Today KAZIMI, the indie-pop and folk-rock artist based in NYC, shares the single "Fever Dream," the second track from her debut album River Run out later this year.
Of her new single "Fever Dream," the singer-songwriter wrote: "'This is a song about pleasure and craving. About wanting something (someone) so bad that the desire seeps into your every moment, coloring everything you see. That obsession, that need, that want. Bodies seeking bodies."
TRIP THE WIRE Release New Single "In The Crossfire"
Bringing together East Coast attitude with West Coast swagger, TRIP THE WIRE is a high-energy hard rock band from one of rock music's meccas: Seattle, Washington. The dynamic hooks, tight and driving rhythm 'n' grooves, fiery guitar leads and powerhouse vocals are sure to get your fists in the air and keep you rocking long after the show has ended! The band is set to release their self-titled debut on June 16th, 2023.
HANNIBAL BURESS (ESHU TUNE) IS GETTING STRONGER IN "I LIFT WEIGHTS"
JAODAE Release New Single "Nest Of Veins"
Progressive. Heavy. Instrumental. Words that conjure an image, a sound, a band. But on first listen to JAODAE's new album Nest of Veins, words disintegrate to make way for something wholly original and totally unexpected. Today, the band has release the title track from the upcoming opus.
RAEGAN Transforms Shakespeare's Classic with "WALTZ": A Captivating Lesbian Retelling of Romeo and Juliet
The track was created during her senior year of high school, a time when she bravely embraced her true identity and faced the resistance of her parents, not just to her sexuality but also to her chosen partner. RAEGAN channeled her feelings of entrapment and the longing for acceptance through the powerful medium of music. She explains, "One day I went into the studio and just wanted to make a song out of a waltz for some reason. The feeling of the music made me express how I was feeling in a very almost old fashioned, Shakespearean way. Everything I wrote is how I felt at the time in a more metaphorical sense. It's me expressing how I felt trapped and controlled when I just wanted to be allowed to be in love.
Kim Petras and Nicki Minaj music video Alone for Vevo Footnotes
Explore the Love Story of "Eloise" with Montreal Rocker Patrick Krief
My father followed my mother from Morocco to several other countries as her family moved from place to place in search of a better life. Ultimately they found a life together in Montreal in the early 60s. I imagined what it might have been like had my father lacked such persistence. And in that character, I imagined the longing he might feel for the rest of his life.
RAYE + COI LERAY IN "FLIP A SWITCH." VIDEO + NORTH AMERICAN DATES ADDED TO WORLD TOUR
Bonafide global superstar RAYE – fresh off a string of dates with Kali Uchis and now supporting SZA on her sold out 'S.O.S' Arena Tour across Europe/the UK – today announces new dates have been added to her headlining My 21st Century Blues World Tour spanning North America, Europe, the UK, and Australia.
London Based Electronic Pop Singer-Songwriter Sofi Vonn Releases Music Video For New Single "Rumors"
London based New York born electronic pop singer-songwriter Sofi Vonn released her music video for her latest single "Rumors" last week. This release follows the success of Sofi's 2023 single "Afterglow" as well as her remix EP for previously released single "Famous," which peaked at #6 on the Music Week Commercial Pop Chart, and featured remixes from producers Jochen Simms (Amanda Lepore, Carmen Electra) and Until Dawn (Ava Max).
MONUMENTS release captivating music video for new single "Nefarious"
Visionary progressive metal outfit MONUMENTS is thrilled to announce the release of the official music video for their latest single, "Nefarious". Following the single's debut on May 25th, 2023, the band is set to mesmerize fans & new listeners with the visual addition to their powerful single. "Nefarious" is about summoning the bravery to take a stand against powerful and oppressive forces against all odds; to rise up and challenge the status quo and pave the way for a brighter future for generations to come.
[Single] M-Dot ft. Willie The Kid, Vast Aire & Revalation – Round Table prod. by Gajos (cuts by Lp2)
Boston, MA rhyme titan M-Dot, hits us with his latest single "Round Table" and enlists the verbal stylings of Michigan native & frequent Alchemist collaborator Willie the Kid, Vast Aire of the legendary Cannibal Ox and his own EMS crewmate, Revalation. The veteran emcees trade bars at the round table while floating seamlessly over a beautiful backdrop produced by Gajos (Poland), with additional vocals by Shea O'Brien and cuts by Lp2. The song can be found on M-Dot's latest offering "egO anD The eneMy 2: A Dissolute Paradise," out now on all platforms and available on a Special Edition Color Splashed Vinyl via Bandcamp.
Annie Taylor dish out the 90s Nostalgia
Reminiscent of an angsty 90s movie soundtrack complete with gentle vocals that give off Hope Sandoval (Mazzy Star) tenderness, the track is a slow burner and a mesmerising endeavor into Annie Taylor's newest album. Melodic and undeniably catchy, the easy-going guitar strings, catchy riffs and tight snares make for a striking second single. The track is yet another insightful look into what we can expect from 'Inner Smile', seemingly filled to the brim with a variety of influences. At the heart of the song is the idea that we are all responsible for our own happiness and well-being.
DOE BOY RELEASES NEW SINGLE & MUSIC VIDEO "WAY I WALK" TODAY
"WAY I WALK" hinges on a head-nodding and nostalgic Jennifer Lopez sample as Doe Boy locks into a bouncy flow. His cadence instantly captivates as he struts towards one of his catchiest choruses to date, "This just the way I walk." The accompanying visual showcases just that as he and a group of friends groove, smoke, and turn up outside in their neighborhood.
Rare Americans Release Act I of New Album and Animated Film 'Searching for Strawberries: The Story of Jongo Bongo'
Today, alternative rock band Rare Americans have released Act I of their most ambitious project to date, Searching For Strawberries: The Story Of Jongo Bongo. Combining a revolutionary 33-minute, fully animated musical feature and accompanying album to create an immersive listening experience, Searching For Strawberries tells the true story of Rare Americans multi-instrumentalist "Jongo" (real name Jan Cajka) and his transformation from corporate pawn to rock star. Take a trip with Jongo as he ditches the rat race and goes on a journey of self-discovery on the Santiago De Camino, a 500 mile pilgrimage through Spain. Stream Act I on DSPs here.
NEOLIA Embrace Feverish Riffs And Heavy Grooves In "Rise And Fall" Off S/T Debut
Israel's Neolia's debut self-titled album is a masterpiece of experimental, progressive metal that will leave you speechless. From the haunting melodies to the complex rhythms, every aspect of this album has been crafted with care and precision. Get ready to be transported to another dimension with this Israeli band's stunning debut and the recently released single "Rise and Fall" being presented now with a lyric video. The band shares the background of the track:
Key Glock stays on the move "In And Outta Town" in new video from 'Glockoma 2'
Back with more heat from his February project Glockoma 2, Key Glock is "In And Outta Town" in his new video. The clipped bassline and thumping Tennessee trap percussion, produced by PRE's own Bandplay and Memphis maestro Hitkidd, feels hypnotic.
Key Glock is Runnin' and Gunnin' in "In And Outta Town" Video
Flexing since he came out the womb, Memphis heavy-hitter Key Glock is always on the move. Hopping in his turquoise Rolls Royce, the Paper Route Empire rapper shares "In And Outta Town," his new video from February's Glockoma 2 project. Produced by PRE's own Bandplay and Memphis maestro Hitkidd, "In And Outta Town" builds on a clipped bassline and thumping Tennessee trap percussion, leaving space for Glizzock to lock in and talk his smack: "Don't tell me to slide, I been out here for a long time/These n****s porcupines, backstab ya and that is not my kind." In the video, Glock and some of his PRE brethren, including Kenny Muney, take a break from the sold out "Glockoma 2 Tour." Riding around in his Rolls Royce Dawn convertible, Glock and his boys ride to the studio, as Glock gets fresh new ink.
FEVER 333 Drop incendiary new track, "$WING"
"$wing" expands upon the band's signature blend of rapid-fire rap cadences and visceral punk expression, coupled with frontman Jason Aalon Butler's socially conscious lyrics — this time taking aim at the sports industry's historical exploitation of people of color and the fight for agency and autonomy. Butler paints an articulate, focused picture without sacrificing venomous reproach and unbridled aggression.
Jhené Aiko & Sleep Soul Return with Sleep Soul: Relaxing R&B Baby Sleep Music Vol. 3 Out Now
Curated by Jhené, Sleep Soul: Relaxing R&B Baby Sleep Music (Vol. 3) encompasses 20 soothing tunes crafted to inspire and maintain a good night's sleep. Vibrant R&B melodies melt into downtempo rhythms encased in warm synths tailored to receptive young ears. "Sleepy Bear Soothing Serenade" opens the album with mesmerizing echoes and ambient rain sounds across a soft soundscape. "R&B Lullaby Dreams" and "Counting Sheep With Brown Noise" pacify and precipitate rest. Finally, "Sweet Dreams With Sleepy" provides a delicate conclusion to the evening with a gentle twinkling piano melody.
THROAT LOCUST Drop Violent New Single "Gifted The Grave"
Hot off the release of their acclaimed EP Dragged Through Glass, THROAT LOCUST is back with more grooving death metal with new single "Gifted the Grave." Their blend and intensity of hardcore-driven death metal will punish even the most seasoned pit boss and break the necks of everyone up slamming against the safety barrier. "Gifted the Grave" is two minutes of head bashing, blunt force trauma from the Texas death metal dealers and can be streamed HERE.
DISTANT Joins Forces With INHUMAN on "(In)Human Scum"
DISTANT has become an unstoppable force. After touring the US with BODYSNATCHER, ANGELMAKER, and PALEFACE the band just wrapped up their first European headlining tour with EXTORTIONIST, DAGGER THREAT, and ABBIE FALLS. Now they are dropping "(In)Human Scum", a blistering remix of their track "Human Scum" by electronic music producer INHUMAN.
MODERN MIMES Release"Heavy Heart" Video
MODERN MIMES, the alternative heavy rock outfit from South Florida, have unveiled a video for their single "Heavy Heart".
TRAVIS JAPAN RELEASES DIGITAL EP, MOVING PIECES, VIA CAPITOL RECORDS
The EP features four songs: "Charging!", "Still On A Journey", "Keep On Smiling", and "Moving Pieces", the pre-release single that is written and produced by Poo Bear, who has worked with artists such as Justin Bieber and Billie Eilish. The EP gives listeners a taste of how Travis Japan successfully mixes dance-pop and EDM ahead of projects to come.
Noel Gallagher Reacts To Negative Tweet From Estranged Brother, Liam
During the opening night of Noel Gallagher's High Flying Birds and Garbage Co-headlining US tour, 98.9 KPNW's Afternoon Personality Marco Collins exclusively sat down with the former Oasis frontman. The brief interview addresses the recent negative critique of his live cover of the Joy Division's song 'Love Will Tear Us Apart,' as well as the rumors of an Oasis reunion. Listen to the full interview HERE.
Get whisked away with Rory McBride's "Sonic Lullaby"
He just released the EP's title-track, "Sonic Lullaby," via Buzzmusic, who asserted "…it's as if McBride has tapped into a time capsule, bringing forth qualities of the past and present… listeners will be left with a profound sense of peace and introspection."